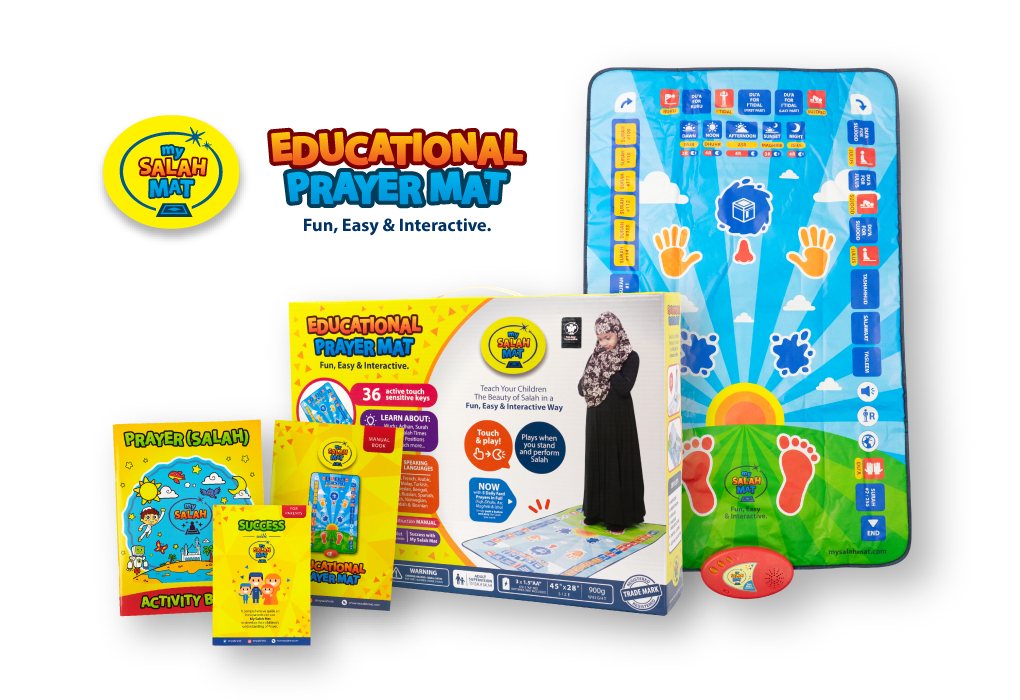 Meet




My Salah Mat®




for

Children
Liquid error (snippets/@AlternatingContentX line 68): Could not find asset snippets/CustomTexts-.liquid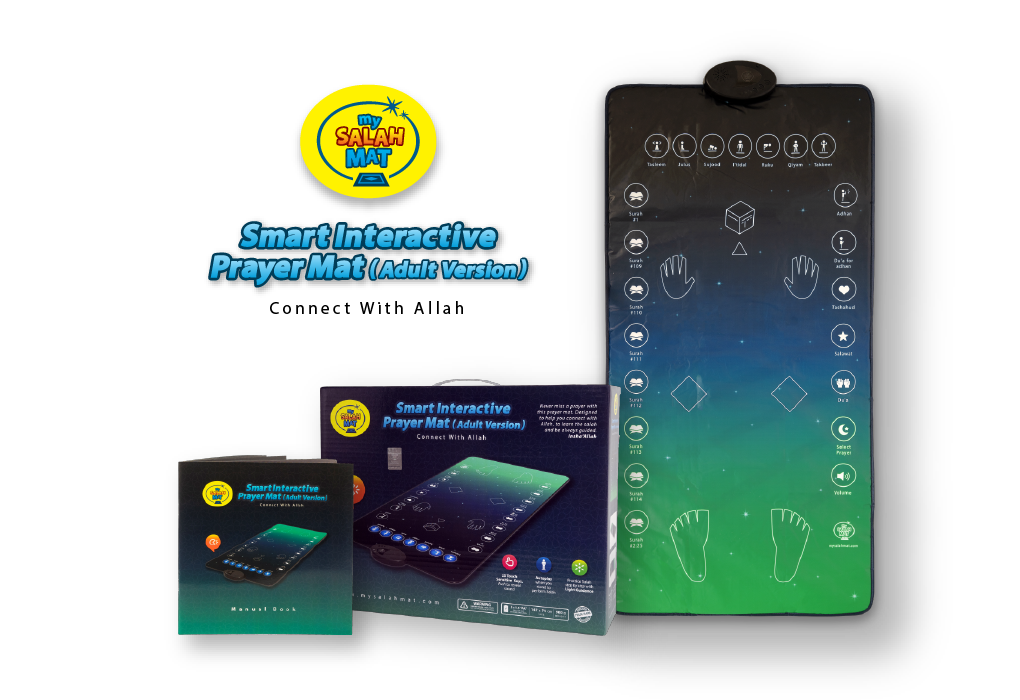 Meet




My Salah Mat®




for

Adult / Reverts
Liquid error (snippets/@AlternatingContentX line 127): Could not find asset snippets/CustomTexts-.liquid



My Salah Mat®




Books

Collection
Liquid error (snippets/@AlternatingContentX line 68): Could not find asset snippets/CustomTexts-.liquid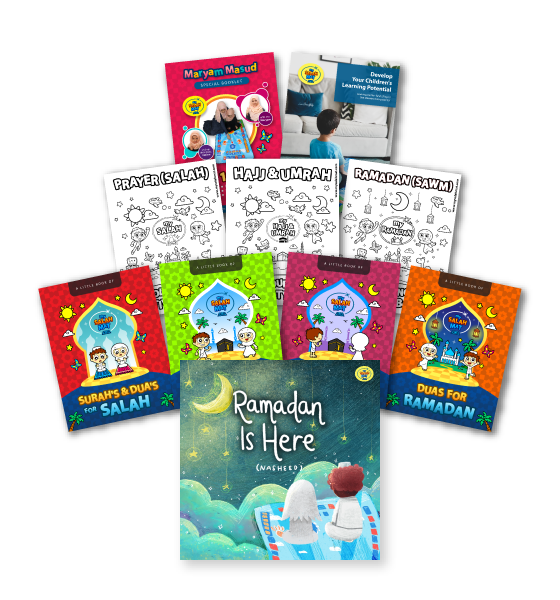 My Salah Mat®




Digital

Downloads
Liquid error (snippets/@AlternatingContentX line 127): Could not find asset snippets/CustomTexts-.liquid
Amazing Gift
for
Birthdays
or
Eid
My Salah Mat® achieves the entertainment, educational and religious needs, a perfect Islamic gift for your loved ones.
Liquid error (snippets/@AlternatingContentX line 68): Could not find asset snippets/CustomTexts-.liquid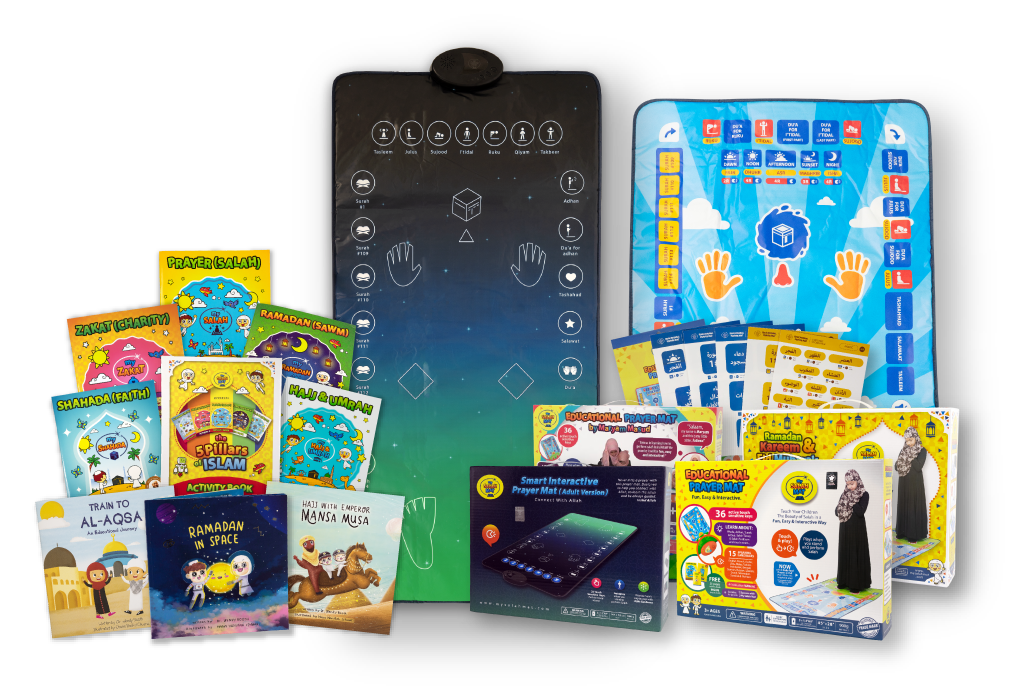 Liquid error (snippets/@AlternatingContentX line 127): Could not find asset snippets/CustomTexts-.liquid
My Salah Mat®
Product Collection


"Bought one for my daughter as she is older than my other two but the other two are fighting over it I think I might have to get another two"

Rehan Ray Rehman
Verified Purchase


"Masha Allah, It's really a very useful Salah mat for children and also who is learning how to do a Salah. it's a highlighted thing Alhamdulillah"

Mohammed Suhail
Verified Purchase

"Mashallah this looks amazing.
It's about time we had more interactive Islamic products for kids to make learning fun."

Bismillah Beginnings
Verified Purchase

"MashaAllah, Where was this product when I was growing up."

Noreen Aslam
Verified Purchase


A must for little ones Learning to pray!
"We opened the box immediately and my kids were so excited. It is so informative. This prayer mat teaches from start to finish. It even has a guideline book for parents, an activity book and a step by step text with the adhan, duas b4 salat, everything. So very well thought out. Thanks"

Dee
Verified Purchase


Great audio & learning instrument
"My son absolutely loves it! He keeps playing surah fatiha and is learning so much from it. I wish I could get it for all the kids at the masjid."

Amazon Customer
Verified Purchase


My kids Love it
"My Salah Mat is amazing!! I'm so happy that I purchased it! I have a 7 year old and 5 and 2 year old and this is the best way to teach them how to pray it's fun for them and it will have them praying on there own in no time I definitely Recommend it!!"

Dina
Verified Purchase


"We are currently using this salah mat in our Madrasah to teach younger children how to pray step by step. The kids love this. The teachers love this and we have recommended parents to purchase this salah mat because learning is fun and interactive."

Aminah Ilyas
Verified Purchase


"Must have prayer mat for parents teaching their children how to pray. We bought two months ago and our 9 year old can now pray independently."

Samra Ali
Verified Purchase


Wonderful products.
"I love this product. Bought for my 4 year old and 7 year old. It has literally everything they need to learn salah & extra duas, about prayer times and wudu etc... also great instruction pack for the parents and fun tasks for kids. V easy to assemble- just unfold and it is kind of self explanatory. I figured it out without the instructions but it is helpful to read and easy to follow too. GREAT JOB on this product. I bought from the sellers directly on their website and will leave same review there- Am so happy with the product so am sharing on Amazon! May Allah reward your efforts!"

Faith
Verified Purchase

"A beautiful product for children, well made and one of a kind! Makes learning prayer fun and enjoyable for kids. Would definitely recommend!"

Naomi Macklin-Carr
Verified Purchase

"It's absolutely amazing. it teaches kids how to pray to duas, it's help them to concentrate on salah. its absolutely brilliant soubahanallah"

Suleca Balde Embalo
Verified Purchase


just what we want
"Item arrived perfectly packed and have full instructions to use the prayer rug."

abdulla alzayani
Verified Purchase


very good product
"Thank you so much.Its much better than I had expected it to be. A very smart product and I am recommending this to almost every parent! A fantastic eid present :) "

Saadia
Verified Purchase


"Best gift my daughter received from her grandparents. Amazing quality and very educational. We love the workbook that comes with the prayer mat. My daughter is only 6 but has learnt most of the surahs through by listening and repeating."

Selina Amar
Verified Purchase


"We received our salah mat today. We loved the colours, packaging and sound quality. The free activity book with the surahs is also a very good. Can not wait to start using this with our twins and teaching them how to pray."

Farah Akbar
Verified Purchase
My Salah Mat
Guarantees:
✓   Easy Returns
✓   30 day Money Back Guarantee
✓   Safety Tested to EU, US, & GCC Standards
✓   Friendly Customer Service

Liquid error (snippets/@AlternatingContentX line 68): Could not find asset snippets/CustomTexts-.liquid
Liquid error (snippets/@AlternatingContentX line 127): Could not find asset snippets/CustomTexts-.liquid
We're also in stores
Check also My Salah Mat products at your favorite stores. Please check that they are stocking the original My Salah Mat. If you are unsure please ask us and we will confirm if they are an official reseller. Also look out for the Hologram Sticker on the box.
Liquid error (snippets/@AlternatingContentX line 68): Could not find asset snippets/CustomTexts-.liquid Liquid error (snippets/@AlternatingContentX line 127): Could not find asset snippets/CustomTexts-.liquid