Can I benefit from My Salat Mat in my school?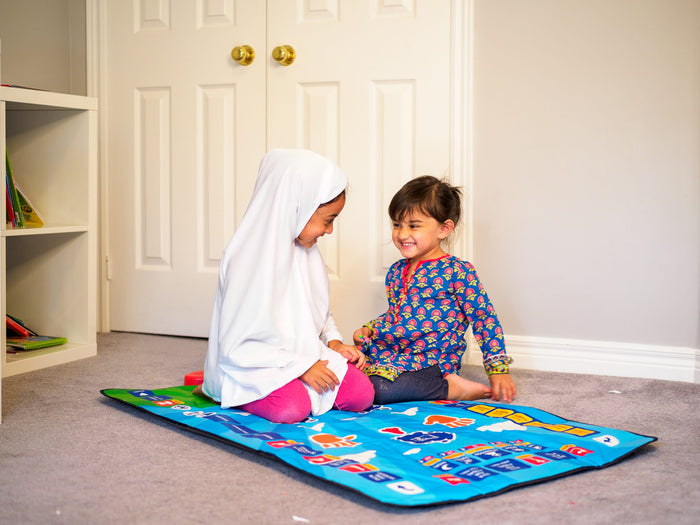 My Salat Mat can benefit both Muslim and mainstream schools. For Muslim schools, it is a useful tool that can support teachers demonstrating to pupils how to pray.
 My Salah Mat visited a Islamic school to showcase their Interactive prayer mat [BTIT Islamic Sunday S
chool]
My Salat Mat is designed to be attractive to children and it should generate enthusiasm through its interactive features and bright colours. As well as the prayer, the mat can also be used to teach duas and small surahs from the Quran, especially as the reciter learnt tajweed at Masjid Al-Haram in Mecca. In addition, the mat could be used as a kind of reward, for example, the best-behaved child in the class could get to do their salat on My Salat Mat rather than a regular prayer mat. Alternatively, a quiet area with cushions could be set up in the classroom where pupils can relax and take time out, and My Salat Mat would provide a positive addition to this.
For mainstream schools, My Salat Mat could be used to show pupils how Muslims pray in order to make the sight of Muslims praying a positive one, and not something exotic, unusual or even scary.
"Here's Mariam (Founder and Author behind @wawstories) visiting a primary school in London to deliver sessions about Islam in line with the national curriculum" Credit: WAWStories
In this way, My Salat Mat could be used within citizenship education and to promote a multicultural environment. Moreover, pupils can get used to the sounds of the prayer, which may facilitate classroom discussions on language, travel and religious traditions. Importantly, My Salat Mat is cost effective and durable, as it is waterproof and fire resistant, making it perfect for the classroom environment.  
If you'd like to feature the My Salah Mat in your lessons or simply showcase one to the class we are more than happy to help organise this. Please fill in the form below and a member of the team will get in touch Insha'Allah