Two Muslim Students at top Universities discuss their ISOC experiences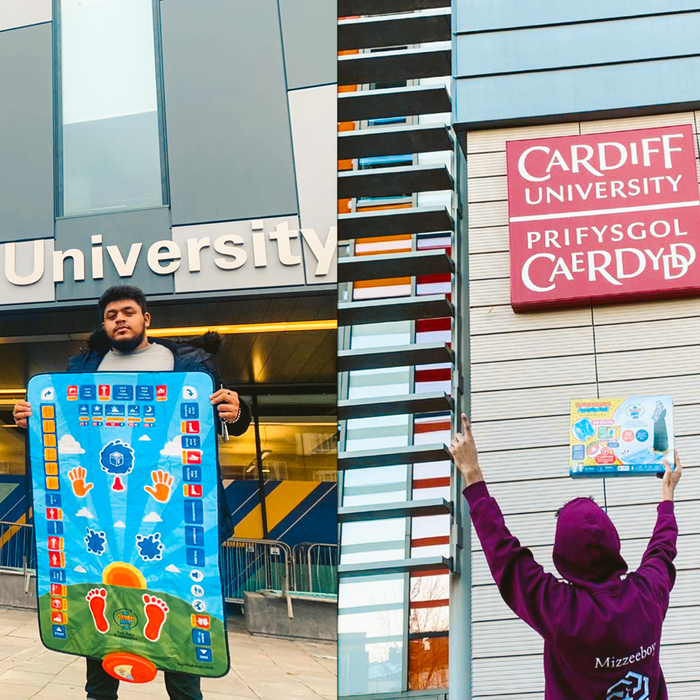 ISOC or Islamic Society is a student formed group found at universities aimed to provide Muslim students with the necessary means to develop spiritually and learn more about their religion. This could be done through activities, charity events and hosting guest speakers.  In 2016 there was around 115,000 Muslim students and 130 Islamic Societies in the UK and Masha'Allah since then we expect that to be higher. Among these students we find a strong sense of community and ambition to create a brighter future for the world Insha'Allah. 
We wanted to get in touch with some of the students behind these amazing societies to get their first hand experiences. Alhamdulillah we got in touch with two brothers from universities opposites sides of the UK. Brother Mizaan Shamaun at Cardiff University and Brother Farhaan Pathan at Liverpool University.
Cardiff University - Wales, UK
As-Salaamu Alaykum! What is your name? 
Mizaan Shamaun
Mizaan Shamaun in-front of Cardiff University with the My Salah Mat
What's your position? 
Head of Charity 20/21
Why did you join ISOC? 
I remember the day when I first met the ISoc at one of the local restaurants. I was late, had already eaten and did not want to take a step further when I saw far too many faces. However, that fear quickly subsided when I met brothers who were just like me,  I built a bond with many of them during that year and I can safely say I won't lose touch with them. The ISoc is a much-needed cornerstone in any University. It helped me to build upon my social skills and studies, but most importantly it kept me steadfast in my faith.
What sort of work have you been doing in ISOC? 
subhana'Allah, this is my second year being on the committee. This year I'm the Head of Charity. So that's been mainly planning and organising events, contacting sponsors/speakers/fundraisers, and helping the publicity with the posters. Big up MySalahMat for donating along with many other sponsors helping us raise over £3,000 on our auction night. Alhamdulillah, I have gained so many skills whilst also being able to serve and help members of our community.
How has this pandemic affected ISOC? 
To say it's affecting us a lot is an understatement haha. Nah honestly I see it a lot like a double-edged sword. By moving all our events virtually (such as our Evening With ISoc lectures and Know Your Nabi discussions which we do weekly) we have seen an increase in participants joining, now people don't need to worry about it getting dark or missing the train home. However, brotherhood and sisterhood can only be made through face-to-face socials. That was how the ISoc started, it was a group of brothers or sisters who used to hang out with each other after Salah in the Masjid and then decide on random motives after whether it be going for Dessert all the way to climbing Brecon Beacons at midnight looool. We are quite blessed in that we are surrounded by Masjids which perform the 5 daily prayers, and we look to engage with our Freshers by encouraging them to pray there. Our Midweek Masjid Motives is one of our initiatives where we invite our members to play pool, table tennis, foosball, tug of war and anything else at the local Masjid. Alhamdulillah, we as an ISoc are blessed in that we can connect with so many Islamic organisations. We look forward to hosting more socials for our members next term insha'Allah.
What would you say to someone looking to join ISOC? 
Connect, connect and connect. Wallahi, I have never seen a society which provides you with everything. Whether that be through entertainment (our banter is amazing), spirituality (Sheikhs from Sabeel and AlMaghreb have come in the past), sports (our brothers came first in the league last year so big up ISoc United), studies (you are bound to find a person in the year above you doing your course so you can get advice) and so much more. The best way to reach out to your ISoc is going to be a DM through Instagram, Facebook or through other freshers who might already be in an ISoc WhatsApp group chat. 
You've collaborated with My Salah Mat, what do you think about the product? 
Haha, omg its very beneficial and cute man. I remember them days on my own tiny little rectangular prayer mat as a kid and I enjoyed it (I still have and use it to this day lool). This product is a level up as its interactive. If your kids enjoy praying then it will stick with them for the rest of their life, it's kinda crazy when you think about it so why not buy this and help make their experience of prayer more enjoyable so that they can really taste the sakeenah of prayer later on subhana'Allah. When I have children insha'Allah, I'll need to invest in these as well
If people want to get in touch with Cardiff ISOC how can they do so? 
So our Facebook handle is CardiffISoc. Our Instagram handle is cardiffislamicsociety. Get in touch with us through there and we'll be more than happy to help.
Liverpool University - England, UK
As-Salaamu Alaykum! What is your name? 
My name is Farhaan Pathan and I am the secretary for the LJMU ISOC.  
Tabarak Iqbal in-front of Liverpool University with the My Salah Mat 
 Why did you join ISOC? 
I joined the ISOC as it gave me a chance to meet Muslims from different backgrounds through different socials that were held such as games night.
it also gave me a chance to learn more about Islam through different classes that were held throughout the year.

What sort of work have you been doing in ISOC?
Some of the things we have done in the ISOC is holding different socials such as movie and games night. Moreover,  we have held charity week where we do events to raise money to help those in need. Some events include an auction/charity dinners, movie night and quiz night. Along with this Islamic classes are also held where we learn about fiqh. We also have weekly football which is usually 7-a side.

How has this pandemic affected ISOC? 
The pandemic has forced us to cease face to face events so instead we have decided to hold our events virtually like over zoom. This also included our freshers fair so it was more difficult to see those interested in joining like in previous years where it was face to face.

What would you say to someone looking to join ISOC? 
I would strongly encourage those who are looking to join the ISOC as it gives you the chance to meet new people that you wouldn't normally meet. It also allows you to learn more about Islam through the classes that are held. Furthermore, it gives you a chance to take your mind off the stress that comes with uni and have fun!
You've collaborated with My Salah Mat, what do you think about the product? 
The My Salah Mat is amazing as it gives you the chance to learn how to pray Salah, make wudu. As it is interactive it also makes it easier for kids to understand how to pray and also how to recite surahs.

If people want to get in touch with Liverpool ISOC how can they do so? 
To contact LJMU ISOC, you can send a direct message on our Instagram: ljmuisoc or email us at ljmuisoc@gmail.co