One of the Biggest Giveaways Ever!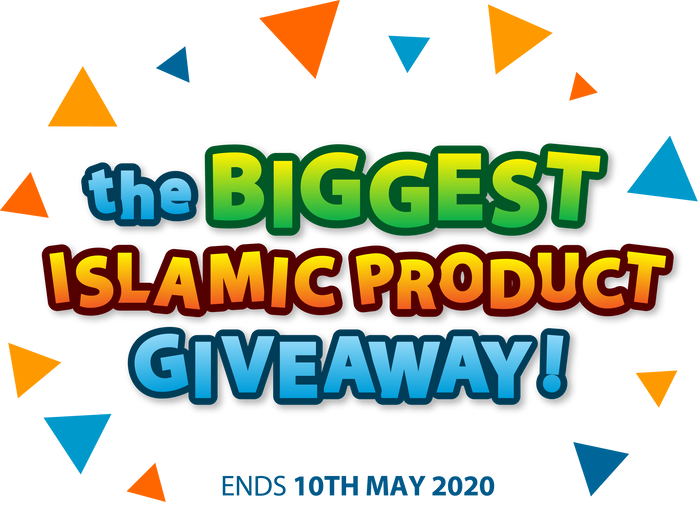 Click the image to enter the giveaway! 
We are pleased to announce that the Islamic company, My Salat Mat, has launched a huge giveaway of a range of Islamic products worth over £1000 [$1300]! It's the biggest giveaway we've ever seen, with prizes from 15 different companies. My Salat Mat has taken the initiative to bring together Muslim designers, musicians and entrepreneurs who have all contributed their unique products. Not only is it an amazing giveaway, but it provides the perfect opportunity to look at what's on offer out there. In addition, it's great to see these Muslim companies supporting each other, especially in the current climate when the Covid 19 virus is making it difficult for small businesses to survive.
There is a wide range of prizes on offer perfect for Eid and Ramadan, from the My Salat Mat prayer mat and various online apps, to a signed copy of Mufti Menk's book 'Motivational Moments.' At times like this, it's important to support our children in focusing on Islam, and these companies have created some amazing products that will help children not only learn about Islam, but have fun and enjoy learning at the same time. All of the sponsors have also provided some great discount codes that everyone who enters the giveaway can use straight away. The offers include apps from the My Ilm Muslim kids cartoon app and Arabic Unlocked for Arabic learners; sign language resources; magazines, pop up books and books dedicated to children learning the Quran, and decorative items and stickers. Altogether, these items will provide a diverse set of resources that are innovative and fun and support positive parenting in order to encourage your child to love Islam.
The winners will be chosen on the 10th of May, which with Ramadan coming is perfect timing for some fabulous Eid gifts, so don't delay! And I'd just like to say, well done to My Salat Mat and all the other companies for coming together to support our children and for the fabulous products now available to us. 
Here is the direct link to the Giveaway - https://www.mysalahmat.com/blogs/my-salah-mat-latest-news-blog