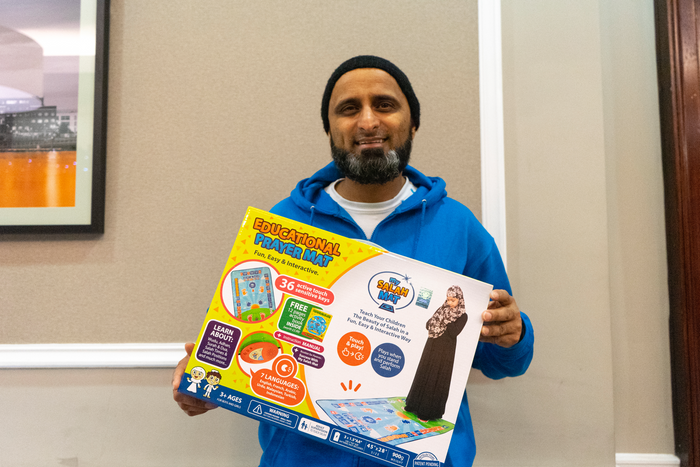 As a young person, I grew up listening to the mesmerising tunes and the heartfelt words of nasheeds sung by the nasheed artist Zain Bhikha. Impressively, he was multi-talented and wrote, produced and sang all his nasheeds by himself.
I only came closer to the Deen in later life. So when I was growing up, I would feel a connection to the Deen when I listened to the tunes and words of Zain Bhikha. I could feel a sense of peace and harmony that Islam is all about. This gave me a platform to start from and gave me the confidence to venture forward and gain a deeper knowledge and understanding of Islam. 
When I finally had the honour to meet Brother Zain as a 37-year-old adult, I was overwhelmed by the experience. Brother Zain is one of the kindest, humblest and most generous brothers that I have ever met. His character and personality radiate warmth and humility.
It was an even greater honour to have Brother Zain give a positive review of My Salah Mat. He had bought one for his grandchildren and was completely amazed by our product. He agreed to do a short review for us and did this with genuine enthusiasm and happiness. It gave me great pleasure to see such a positive reaction to my product from someone that I had admired since childhood.
My encounter with Zain Bhikha taught me and my colleague, Alex, many lessons. He taught us how to behave with people in a respectful way through his mannerisms and his personality. He showed us how to be humble and generous and give people the gift of time, despite his busy schedule and many commitments. He showed us how to inspire others and motivate them by praising the work that they are passionate about.
Decades on from when I first discovered Zain Bhikha and his nasheeds, he still remains a source of inspiration to me from which I learn!