Omar Suleiman | Interactive Kids Prayer Mat | "Very Cool!"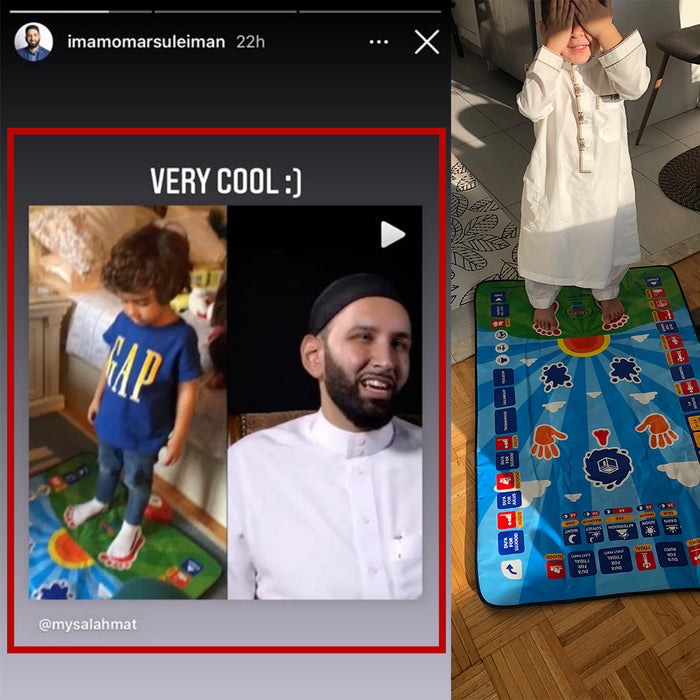 Omar Suleiman is a widely known scholar, the Founder and President of Yaqeen Institute for Islamic Research, as well as an Adjunct Professor of Islamic Studies at Southern Methodist University. He has spoken in congress and was asked by the president to appear at a Whitehouse event. Through the years we as a company have been impressed by his ability to work grassroots organisations and governmental organisations. Omar Suleiman is very vocal about Injustice and his activism is impressive; especially regarding Palestine. 
One evening we were inspired by Omar's video about Sujood. In this video he defined the spiritual essence of going down to Sujood, and the religious and psychological significance. We used his video aside a small child praying on the My Salah Mat, doing Sujood. We posted it on our instagram and we were lucky enough to have Omar see it and he kindly shared it on his Instagram story writing "Very Cool!".
We were really happy to hear praise from such an impressive scholar and follower of the faith. Afterwards we messaged him to see if he'd accept a My Salah Mat as a gift for his children or family members. He gracefully accepted and we hope he's using it now!
It's incredible to be able to connect with impressive members of the world wide community with our prayer mat that started as simply a solution to a problem - how to get children to pray? We're also blown away by the constant praise and support we get from that wider community.
We hope Omar Suleiman the best spiritually, physically and in his important and poignant activism. 
If you'd like to find out more about our Interactive Prayer Mat click the image below!