Why did we invent this Interactive prayer mat?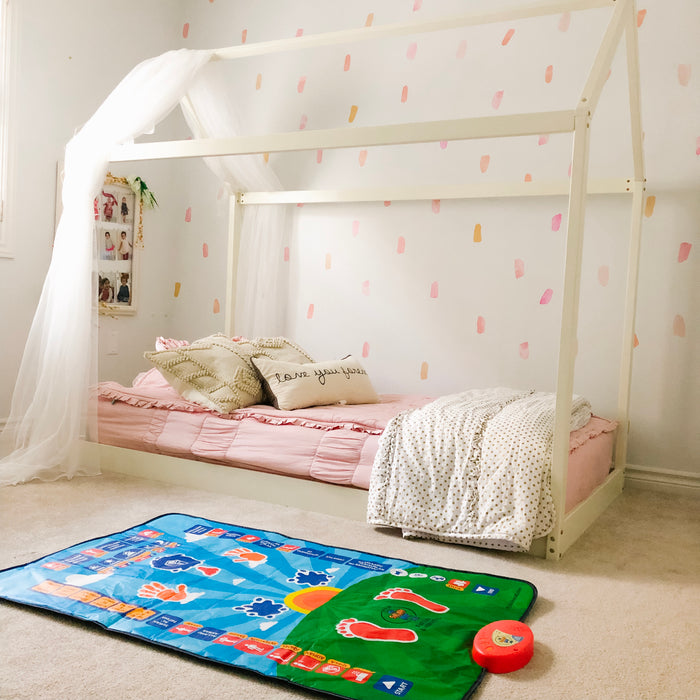 To inspire children 

Encourage children to be inquisitive

Children learn through touch, play, sound and visual

To make salah fun, easy and interactive 

Help parents to guide and teach their children the basics of prayer
Benefits of purchasing and gifting My Salah Mat
A GREAT START IN LIFE: Living in countries that do not have Islam as a state religion can sometimes create difficulties for our children. My Salah Mat brings Islam and Salah together in a Fun, Easy and interactive way. 

SADAQAH JARIYAH: Salah is a pillar of Islam and by teaching someone how to pray it is a reward that will benefit that person in the dunya and akhirah. 

GIFT/PRESENT: We all give gifts for Eid and Birthdays, My Salah Mat is one of the best gifts you can give someone. The gift of salah. 

EDUCATION: Gifting My Salah Mat to a local school or place of worship is a great way to build understanding and tolerance. Most people just don't know how Muslims pray and what they say. This prayer mat would make a great way to help people find out more about Muslims in a fun, easy and interactive way.

NEW MUSLIMS: Even though the prayer mat has been designed for children, adults and new Muslims are using it. 

PARENTS: A guide and teaching aid for parents and teachers. Helping them to teach and being the first in their children's lives to introduce Salah. 

CHILDREN: Learning through play, interaction, visuals, audio are all types of learning. Some children learn better through visuals, some through interaction. A combination of all of these types of learning help children to stay focused and keep wanting to learn. In the end they will love what they are doing and that happens to be salah!

BABIES: We found that babies love listening to the Quran and touching buttons. So this prayer mat doubles up as a play mat with Qur'an surah's and buttons for them to push. 
If you'd like to purchase the interactive prayer mat please visit HERE