Our Favourite Ramadan Food Recipes for Kids!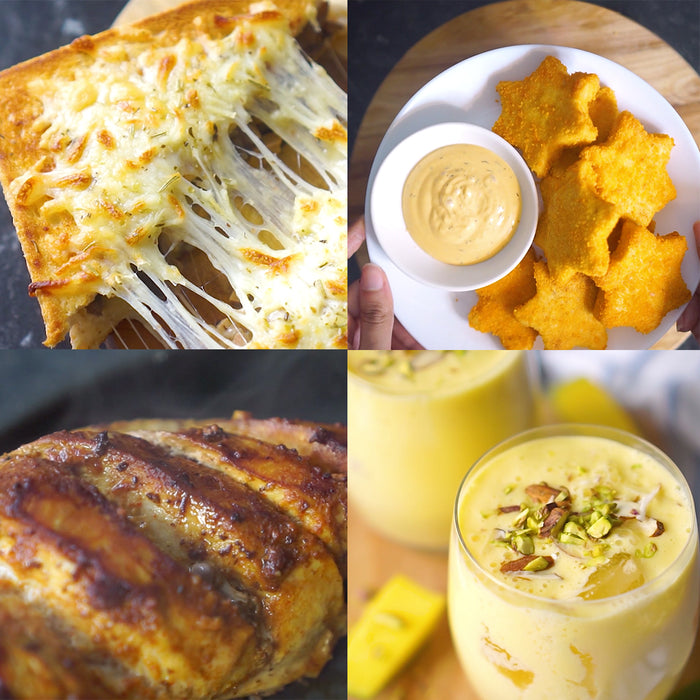 As-salamu alaykum reader, Ramadan Kareem! We've been planning and undergoing some very exciting projects over the past few months. One of those projects is celebrating food at Ramadan, as a result, we got in contact with Rabia [HungryForGoodies]. Rabia has kindly created and recorded the process of making 4 recipes for kids. Two recipes are for children who are fasting for this Ramadan and two recipes are for children are too young to fast. 
1) Tell us about your Instagram/YouTube channels. What do upload? When did you start? How did your content progress from when you start to now?
I share easy and creative recipes which mainly focus on Pakistani and Filipino cuisine. I started my YouTube Channel back in 2015 and was inspired by talented chefs and content creators such as 'Food Wishes' and 'Peaceful Cuisine'.
I feel like in the last 5 years I have definitely improved my cooking skills. I started by creating short simple video recipes and now I am working on longer calming ASMR cooking videos. There's so much to learn and I'm enjoying it a lot.

2) Who taught you to cook?
I grew up in a family where having a good homemade meal is very important. I am grateful for both my parents for teaching me all their cooking techniques and helping me discover my passion for food.

3) What's your favourite dish to cook during Ramadan?
I love making Mango Lassi! I would have this for Suhoor every Ramadan. It's very filling and the yoghurt keeps me hydrated throughout the day.

4) How are you finding fasting under lockdown?
Actually, it's going really well. Not going out and working from home has made it a lot easier and less exhausting. It's also given me more time to reflect upon the Quran which is definitely on the good side.

5) How are you structuring your day during Ramadan?
I like to keep myself busy. The morning after Suhoor and Fajr is for my Quran recitation. Then I sleep a bit and wake up early to work from home, this keeps me occupied till the afternoon. After that, I like to dedicate my time in editing videos and helping out in the kitchen to prepare Iftar. I try to balance everything out making sure I perform my prayers on time. Lastly, I like to keep the night for Taraweeh and a lot of dhikr. 
I don't really get much sleep but I guess it's the same for everyone.

6) What do you look forward to most during Ramadan?
It's hard to choose one as there're a lot of things that I look forward to. But if I have to pick one it's definitely spending time in the remembrance of God. I also love the warm feeling of family and community during Ramadan.

7) Can you tell us about the 4 recipes' below and what you chose those? [Full recipes at the bottom]
I decided to share recipes that are slightly healthier.
The Chicken Nuggets are baked rather than fried and shaped into a fun star form your kids are definitely gonna love these.
Mango Lassi is just a Ramadan staple and comes on who doesn't love it? Mainly made with yoghurt and mango it will keep you hydrated all day long.
The fried chicken is shallowly fried rather than deep-fried and the marinate is AMAZING you have to try it out! 
Lastly for Suhoor rather than the boring egg on toasts you can enjoy a Cheese Mushroom Toasties. This was inspired by toasties I had from Costa Coffee. It's extremely cheesy and delicious!
-
-
8) Have you tried the MySalahMat yet? If so, what are your thoughts?
I have and wish this was available back when I was a kid and learning how to pray. When you contacted me for a collaboration I instantly said YES because I am all about supporting innovative and beneficial products. I gifted my MySalahMat to my niece I can't wait for her to use it once she's old enough. I will definitely get another one for my future kid Insha'Allah.
Recipes: 
Chicken Nuggets:
Ingredients:
2 slices of bread, cut into cubes
400g chicken breast, cut into cubes
1/2 tsp red chilli powder
1 tsp salt or to taste
1 egg
1 tsp coriander seeds, crushed
oil as needed
breadcrumbs as needed
Directions:
In a food processor blend all ingredients except the breadcrumbs and oil.
Once nicely blended. Grease hands with some oil and knead the minced chicken well.
Flatten the minced chicken in a 1/2 inch thick rectangle. 
Then take a star-shaped cookie cutter and stamp as much as stars as you can. 
Coat each star in breadcrumbs. 
Spread some oil in large baking tray and place all chicken nuggets.
Bake for 15-20 minutes in a pre-heated 180 degree Celsius or until golden brown. 
Mango Lassi:
 Ingredients:
2 cups fresh mango cubes
2 cups of yoghurt
1 cup of milk
4-5 tbsp of sugar
1/4 tsp cardamom powder
ice cubes as needed
For Garnish:
chopped pistachio 
chopped almond
Directions:
In a blender mix mango cubes, yoghurt, milk, sugar and cardamom powder.
Once blended it should be nice and smooth. 
Transfer in a glass with some ice cubes.
Top with chopped pistachio and almond
Fried Chicken:
Ingredients:
600g chicken leg quarters (make several slits, watch the video below to see how)
half of a lemon juice
2 tbsp yoghurt
1/4 tsp red chilli powder
1/4 tsp garam masala
1/4 tsp turmeric powder
3/4 tsp salt or to taste
2 cloves of garlic
oil for frying
Directions:
In a large bowl place all the ingredients except garlic cloves and oil. Mix well and let marinate for 1-2 hours or overnight in the fridge.
In a frying pan heat up some oil (place just enough oil for shallow-frying, the chicken should partially be submerged in oil and not deep-fried).
Once the oil is a hot, place in the chicken legs and the two garlic cloves. This will give the chicken some of that garlicky flavour.
As soon as you placed in the chicken and garlic turn the heat to medium-low.
Cover the pan with its lead and let cook for 10-12 minutes.
After 10 minutes uncover and turn over each chicken leg quarters. Cover and allow the other side of the chicken to cook for 10-12 minutes.
After that uncover and turn the heat to high, fry each side of the chicken for 2 minutes or until it turns golden brown (this will make the outside part of the chicken crisp).
Remove from oil and transfer on to a paper towel to remove excess oil.
Repeat same process with the rest of the chicken.
Enjoy warm with rice or roti!
Notes:
Frying on low-heat will allow the chicken legs to cook evenly while keeping it tender and soft inside.
Covering the pan will produce steam which will make the chicken juicy preventing it to dry out.
Cheese Mushroom Toasties:
Ingredients:
1 tbsp oil  
200 g chestnuts mushrooms
1 small onion, chopped
1/4 cup of Halal salami, chopped
salt to taste
some ground black pepper
some dried rosemary leaves
some butter
a handful of grated Cheddar cheese
2 slices of Emmental cheese
4 slices of bread  
Directions:
In a pan heat one tablespoon of oil. Once hot add in the chopped onions, mushrooms and halal salami. Stir well, cook for 1-2 minutes or until the onion is translucent and the mushroom has reduced in size. Season with salt, black pepper and rosemary.
Once well-combined remove from heat and set aside. 
Spread some butter on both sides of the bread and place on a hot griddle. 
Top with about 3 tablespoons of the mushroom mixture, grated Cheddar cheese and a slice of Emmental cheese. 
Lastly, top with another slice of bread. Press the toasties with the help of a spatula then flip and toast the other side.
Once the done remove and cut the toasties in half. Cover the top with some more grated cheese. 
Place the toasties in the oven at 250 degree Celsius for 5 minutes or until the cheese is fully melted.
Serve warm!
Jazak'Allah Khair Rabia, thank you so much for taking the time to answer our questions and create these amazing videos! We hope everyone can benefit by creating these amazing dishes Insha'Allah.
To find out more about Rabia please Follow her Social Media