Imagine seeing your child praying on a beautiful Salah mat | Muslim Parenting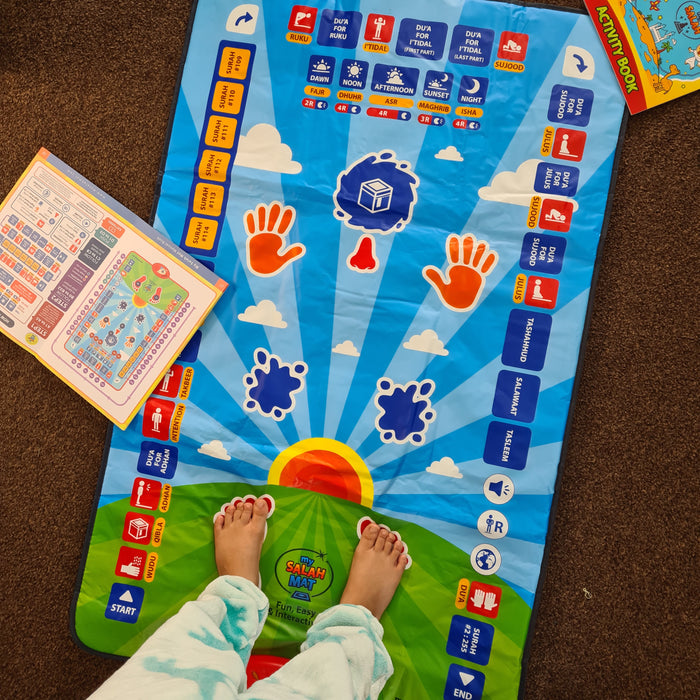 Seeing young Mu'mins embracing their deen and following the Prophet Muhamad (pbuh) footsteps would warm up the heart of every parent.
So, how to teach your children love Salah?
The best way to teach your children to love Salah is to ask them to join you in Salah even before it becomes obligatory for them. Take them to mosques for Jumuah, Taraweh during Ramadan and Eid prayers. During Ramadan let the TV run all the while the Taraweeh is on to show them how beautiful it is that so many people pray in unison together regardless of where they are in the world. This will help the kids to feel connected to the rest of the Ummah and have a sense of belonging.  
Take your kids on the lap and tell them stories from your own childhood how you enjoyed prayer time with your father or mother. Children love imitating their parents, so may want to follow your example from childhood.
Teach your child to say Athaan and Iqamah and let them call for prayer in your household! 
Explain to your children that we pray Salah out of love for Allah and to please Him, to gain rewards and have baraqah in our lives. The most important is to lead by example. Our kids watch us more than they listen to us. If you rush for prayer as soon as the Adhan is called, so will your child. 
We feel passionate about teaching the young generation to observe Salah and therefore created My Salah Mat to help parents around the world instill love for Salah in their children.
Why kids love My Salah Mat
Children love receiving My Salah Mat - they start using it the moment they receive it! 
The colourful layout, buttons to push, and audio sounds make learning salah a fun and enjoyable experience. Children are happy to spread their salah mat next to their parent to pray together or to explore Salah mat on their own. My Salah Mat has made learning to pray fun!
Why parents love My Salah Mat
Parents see the enthusiasm and excitement of their children to receive My Salah Mat as a gift.  
The mat is simple to use and interactive making the job of teaching Salah easy. 
Parents appreciate that this product introduces Salah to children in the most positive manner and develops the habit that will last a lifetime. 
A lifetime of performing salah is the vision of the inventor of this wonder product.
My Salah Mat Kids (hyperlink to sales page) specifications and inclusions:
Quran Recitation from a Qualified (Qari) with Ijazah.

Free Activity Booklet included (worth £9.99)

Booklet for Parents on how to start the teaching process

Very detailed illustrated manual 

30-day money back guarantee

Dimensions 103 x 72 cm

Waterproof and Fire proof

Requires 3 AA batteries to operate

Passed safety tests (EU, US and GCC – Global Compliance Certification)
My Salah Mat is a poplar gift idea for children beginning to pray, starting school, birthdays, aqeeqah, Ramadan or Eid occasions or just out of love! Purchase your prayer mat here (insert link). 
Can you think of a better way to introduce Salah to your children? Children are happy to learn and perform Salah. Let the journey of Salah start with My Salah Mat!
My Salah Mat is sold all over the world, to find your local retailer please go to:
https://www.mysalahmat.com/pages/local-re-seller
We sincerely pray that these kids salah mat can help your children and please remember us in your prayers! Insha'Allah