My Salah Mat featured on the BBC Morning Show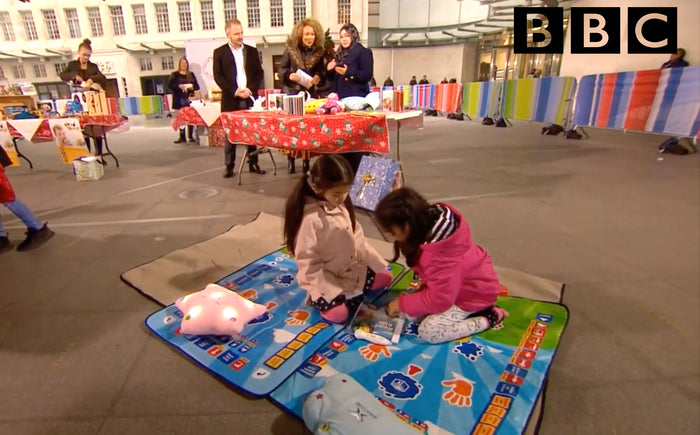 My Salah Mat was featured on the BBC Morning Show. On the 24th of November 2019 there was a feature showcasing ethical toys for Christmas presented by Sean Fletcher and Ria Hebden, presenters of BBC One's Sunday Morning Live. There were stalls set up outside of the BBC building in London. There was a great range of products featured on the segment including a playset made from recycled plastic.
            Anafiya Gifts had one of these stalls set up to showcase many of their different products.
 During one part of the live broadcast Naomi Macklin-Carr (Founder of Anafiya Gifts) showcased the My Salah Mat. Ria Hebden was amazed by our product and spoke about it as the camera zoomed in and Naomi explained how the prayer mat works.
'In the muslim prayer there are various positions like bowing, standing, prostrating,' Naomi explained. 'So this takes the child through the prayer and takes them through what to stay at every stage.'
            "So it's putting the fun into prayer!" said Ria, which is a great summation of one of the earliest goals of our prayer mat.
            Afterwards, we privately messaged Ria and she said it was a great product and wished us great success.
Aaah thank-you so much, it's a great product! Congratulations and I hope your success continues x - @riahebden
We would like to thank Ria for the great words and also Anafiya Gifts, they are one of our official resellers and have an amazing range of Islamic Gifts and educational tools. It was amazing to be featured on such a gigantic broadcasting platform as the BBC, as well as to be shown alongside such other great and innovative designs!
You can find out more about Anafiya Gifts here! - https://www.anafiya.com
If you'd like to find out more about our Interactive Prayer Mat click the image below!