My 18 month battle with companies in the Netherlands Selling Fake My Salah Mats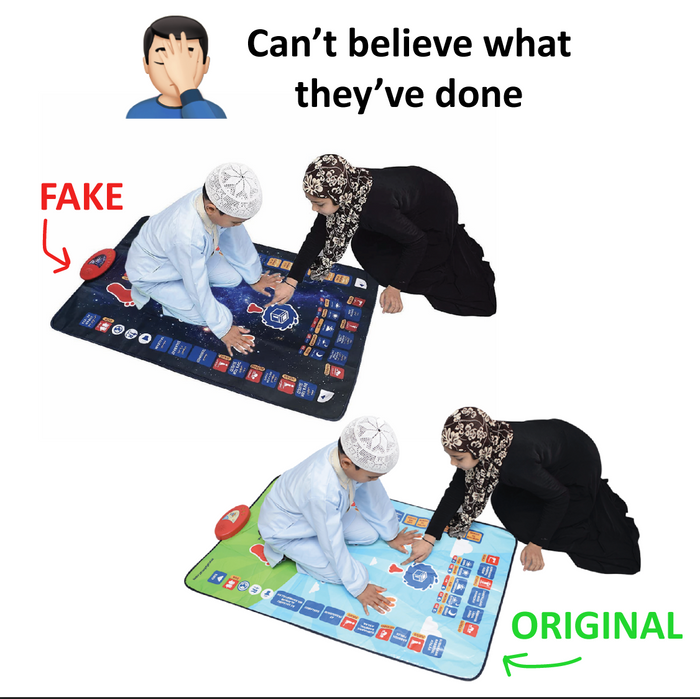 In 2020 I became aware of some companies in the Netherlands selling counterfeit versions of the My Salah Mat. All three had previously approached and asked for wholesale, and because of this I knew that they hadn't bought the products directly from me and that they were likely fakes.

            I have learned a lot since the initial startup of My Salah Mat, growing from a small grass-roots company into what we are today, and by this point in my journey I've learned what to do to combat fakes so I immediately took action.

            First was to take screenshots of the product page, then I made sure to obtain one of the products from these companies to confirm that it was indeed a fake. Once I had the proof that I needed, I sent a cease and desist letter to them, which asked the company to stop selling the fakes as well as to disclose where they were purchased in the first place. I also made sure to phone them out of respect to speak with them on a one-to-one basis, though this was mostly useless.

            The legal process began in May 2020 and I'm only just seeing results now in September 2021. This is how long these things can take, but I have learned it is vital as a creator of intellectual property that you must take steps to protect it.
 
            My solicitor wrote letters and tried to contact them via telephone for around 6 months or so, without any response. One company did answer the phone but was very rude to the solicitor. My Solicitor told him the truth - that the call was a warning before a judge will order them by law. Eventually the company was sent an official Summons (which is the size of a small book), they got their own solicitor, and then they agreed to terms.

            They were to pay thousands in fees and inform us of who they purchased it from. They disclosed that they had 20 counterfeit products with an invoice. They then returned 24 counterfeit products to us, which showed to us that they lied on the invoice, and therefore means that they broke terms and will have to pay more fines 
            Another of the companies we reached out to never responded to the letters of emails. They only contacted us after 18 months when they'd received a Court Hearing date, to come to an agreement. They agreed to pay all my legal fees and return all the products.

            I suppose the main thing I want to highlight with this small blog post detailing the trouble we've had following up on these counterfeit cases, is that I am now good at chasing after them. Through the years I've learned how to deal with them, how to make sure these dangerous counterfeits are taken off of the market and how I can make sure those who willingly sell them are held accountable.

            And willingly is the word - if these products were sold unknowingly (or even if they weren't) we would be more than happy to come to an agreement before any expensive legal action was taken, but because of the arrogance and unwillingness to cooperate of these companies, we were forced to escalate things. Although it took 18 months we as a company have made sure to see it through to the end and in the end we won.

            These companies had to pay thousands in fines and legal fees, when this all could have been resolved simply enough by disclosing who they bought them from, and returning the products.
 
- Kamal Ali, CEO of My Salah Mat LTD