Interactive Prayer mat for Kids for 3-9 Year Olds | Ramadan Version |
Interactive Prayer mat for Kids for 3-9 Year Olds | Ramadan Version |
Interactive Prayer mat for Kids for 3-9 Year Olds | Ramadan Version | Ramadan Gift
Limited stock available. Once we sell out we will not have any in stock until next Ramadan Insha'Allah.
Introducing the revolutionary Interactive Kids Prayer Mat by My Salah Mat - the perfect tool to make prayer time fun and interactive for children aged 3-9.
This prayer mat provides a hands-on learning experience that makes it easier for children to understand and remember the different parts of Salah, from Wudu to the final Tasleem.
This prayer mat is packed with exciting features that will keep your little ones captivated for hours on end. Simply lay the mat down, and watch as your child explores the different steps of Salah with built in instructions on how to do wudu, recite surahs, say duas, and much more.
Made with high-quality waterproof and fire resistant materials, this mat is durable and long-lasting, ensuring that it can withstand frequent use. This is a must-have for parents who want to help their children learn about Islam and develop a strong connection with prayer.
Order yours today Insha'Allah and help your child take their first steps towards becoming a confident and knowledgeable Muslim!
Give the gift of Salah; the first touchstone for kids to connect with their Deen.

15 Different Languages (English, French, Arabic, Malaysian, Indonesian, Turkish, Urdu, German, Spanish, Russian, Bengali, Dutch, Norwegian, Swedish, Bosnian)
36 Touch Sensitive Keys
Prays all 5 Daily prayers (Fajr, Dhuhr, Asr, Maghrib, Isha)
Waterproof Material
Fire Resistant Material
Also Included is a child-friendly Activity booklet on Salah (24pg) & an illustrated Manual with tips for parents. 
Quran Recitation from a Qualified (Qari) with Ijazah.
Note: This product has the exact same functions as the original, the difference is in the outer packaging to make Ramadan that extra special Insha'Allah.
My Salah Mat®


Ramadan Kareem & Eid Mubarak
Teach Your Children The Beauty of Salah in a Fun, Easy & Interactive Way
Give Someone
The Gift Of Salah!
My Salah Mat is a Kids Prayer mat designed to educate children on how to perform the Muslim prayer in a fun and enjoyable way. The interactive prayer mat is touch sensitive and has pre-recorded keys that can be touched to reveal the sound, such as prayer times, how to do wudu, recite surahs, say duas, and much more.
Liquid error (snippets/@AlternatingContentX line 68): Could not find asset snippets/CustomTexts-.liquid
Liquid error (snippets/@AlternatingContentX line 127): Could not find asset snippets/CustomTexts-.liquid
In order to make the learning process easy, My Salah Mat will guide the user through two rakat of salah using a simple to understand format.

Free Activity Booklet worth £9.99
Booklet for Parents on how to start the teaching process
Illustrated Manual – Very detailed
Quran Recitation from a Qualified (Qari) with Ijazah.
Liquid error (snippets/@AlternatingContentX line 68): Could not find asset snippets/CustomTexts-.liquid
It will teach the children:

Keys

A1 : Fajr
A2 : Dhuhr
A3 : Asr
A4 : Maghrib
A5 : Isha
B0 : My Salah Mat Introduction
B1 : Wudu – including du'a
B2 : Qibla
B3 : Adhan
B4 : Du'a for Adhan
B5 : Intention
B6 : Takbeer Stage
B7 : Takbeer
B8 : Qiyam
B9 : Surah #1: Al'Fatiha
B10 : Surah #114:  An Nas
B11 : Surah #113: Al' Falaq
B12 : Surah #112: Al'Ikhlas
B13 : Surah #111: An Masadd
B14 : Surah #110: An Nasr

Keys

B15 : Surah #109: Al'Kafirun
B16 : Ruku
B17 : Du'a for Ruku
B18 : I'tidal
B19 : Du'a for I'tidal (First Part)
B20 : Du'a for I'tidal (Last Part)
B21 : Sujood
B22 : Du'a for Sujood
B23 : Julus
B24 : Du'a for Julus
B25 : Sujood
B26 : Du'a for Sujood
B27 : Julus
B28 : Tashahhud
B29 : Salawat
B30 : Tasleem
B31 : Du'a x 12 dua's
B32 : Surah #2: 255 (Ayat Al Kursi)
B31 : End

Function

C1 : 1 Head Sensor
C2 : 1 Nose Sensor
C3-C4 : 2 Hand Sensors
C6-C5 : 2 Knee Sensors
C7-C8 : 2 Shin Sensors
C9-C10 : 2 Feet Sensors
D1 : 3 Volume Settings
D2 : Rak'ah Explanation Key
D3 : 7 Languages
E1 : On/Off Button
E2 : Light Indicator When On
E3 : Speaker (3 Volume settings)

Specifications

Size of the Mat : 103 x 72 cm
Size of the Box : 42 x 32 x 10 cm
Weight of the Mat : 520 grams
Weight of the Mat in Box : 900 grams
Materials Mat is made from :
Waterproof and Fire proof
Required : 3 AA batteries
Benefits of using

My Salah Mat
Long term benefits of a tool such as the interactive prayer mat
Spiritual & Physical Benefits
Frequently
Asked
Questions
Compared to Our
Other Editions
For special occasions, We also have released our Interactive Prayer Mats in different editions. They are all actually the same interactive prayer mat (except the adult version one), but in different content and bundle package.
24 and in LOVE
Yes this is advertised as a childs prayer mat. But as someone who has grown up teaching myself the one thing i struggled with was learning how to pray. I was picking up wrong information and not praying properly so this has really helped me and made it a lot easier. In LOVE. Thank you and Eid Mubarak x
Such an incredible mat
We bought this for our daughter but have found it so incredible useful and helpful and it's really motivated our daughter to come to prayer and even pray alone 🥰 as adults we all want one now! Excellent guide to help everyone learn & make prayer as easy as it can be! Thank you so much 🤗
Easy to use
My 7 year old is already gaining confidence in his salah. Alhumdullillah
Interactive Kids Prayer Mat | Special Ramadan Edition | Ramadan Gift
My Salah Mat®
Product Collection
We're also in stores
Check also My Salah Mat products at your favorite stores. Please check that they are stocking the original My Salah Mat. If you are unsure please ask us and we will confirm if they are an official reseller. Also look out for the Hologram Sticker on the box.
Liquid error (snippets/@AlternatingContentX line 68): Could not find asset snippets/CustomTexts-.liquid Liquid error (snippets/@AlternatingContentX line 127): Could not find asset snippets/CustomTexts-.liquid
My Salah Mat
Ramadan
Kareem
&
Eid
Mubarak
The Fun, Easy & Interactive Way
to Teach Your Children
The Beauty of Salah
Liquid error (snippets/@AlternatingContentX line 68): Could not find asset snippets/CustomTexts-.liquid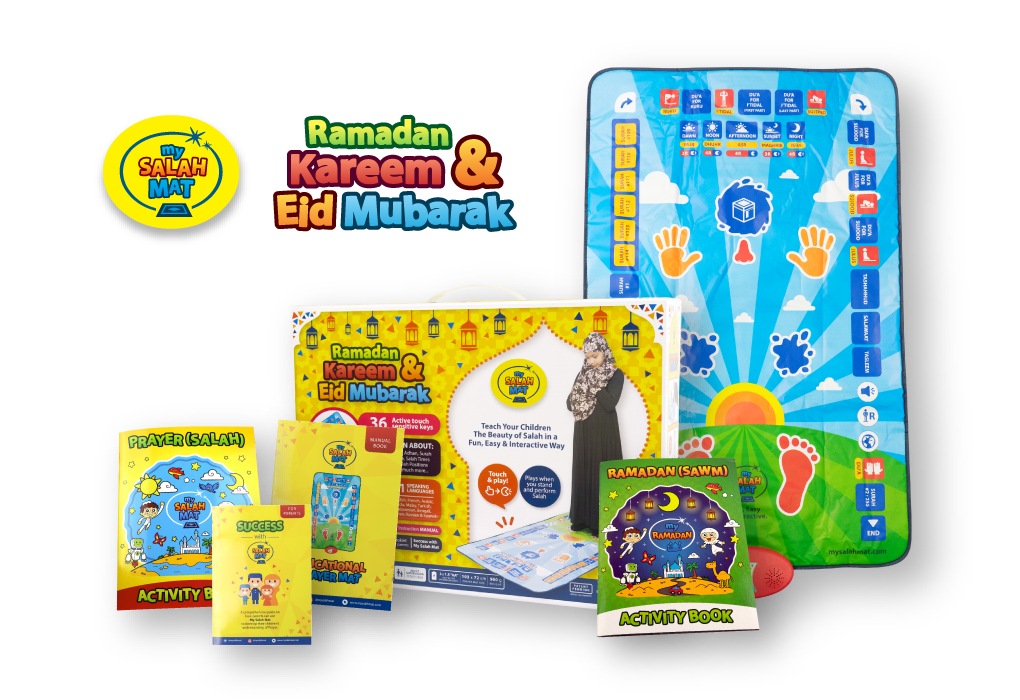 Liquid error (snippets/@AlternatingContentX line 127): Could not find asset snippets/CustomTexts-.liquid