Introducing the Interactive Kids Prayer Mat Ramadan Edition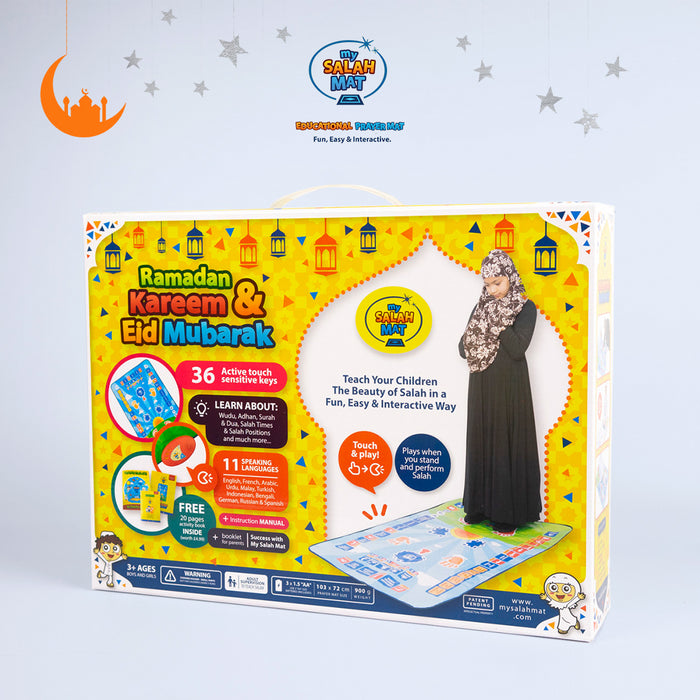 Over the past year, the My Salah Mat team have been working hard on something very special for this year's Ramadan and Eid celebrations. Even with the current difficult situation we find ourselves in, we still want to maintain our love and excitement for Ramadan, and keep our spirits high for Eid Insha'Allah.

Therefore, the very special "My Salah Mat Ramadan edition" will be available on our website a month before Ramadan Insha'Allah. This limited edition of the beloved My Salah Mat is a combination of the original design and our new celebratory design, with confetti and lanterns presented on a background of yellow and a traditional mosaic pattern. The box also states Ramadan Kareem and Eid Mubarak, making it an extra special gift. Masha'Allah, after endless designs we are very happy with this version, and we have a total of 500 available.  
In addition, the mat now comes with four new languages (11 in total). One of our aims here at My Salah Mat is to make this prayer mat available to everyone, regardless of their country or language, and from the start, My Salah Mat had a vision to expand on the number of languages it is available in. We started with seven languages (English, French, Arabic, Malaysian, Indonesian, Turkish and Urdu), and now we have increased it by four more languages (German, Spanish, Bengali and Russian), which was due to high demand. We have more languages in the process and we will always be innovating and designing, so if we do not yet have your language on the MySalahMat, rest assured that we are working on it!
 It is part of the spirit of Ramadan to give in charity and share food and gifts, and My Salah Mat means you can give the best gift of all: the gift of salah! Ibn Abbas (RA) narrated: "Allah's Messenger (SAWS) was the most generous of people, and he was the most generous in the month of Ramadan…" (Bukhari and Muslim). In addition, during Ramadan, our focus is on praying as much as we can, as well as fasting. No doubt our children will become aware of this and so it is the perfect opportunity to encourage them to pray. Not only that, but while you are concentrating on your own salah, the My Salah Mat can keep your child entertained as they engage in this enjoyable learning experience. Alternatively, the My Salat Mat makes a beautiful Eid gift that will set your child, or the child of someone special, on the right path inshaAllah. 
 We have designed this packaging because we want to make Ramadan and Eid special and provide designs that represent our Islamic traditions and celebrations. The visual representation is appealing to Muslims non-Muslims alike, and is something that can be appreciated by everyone InshaAllah. We hope you like the design, as the Ramadan themed designed box makes My Salah Mat the perfect gift for Ramadan and Eid. We sincerely hope that it makes it special for your family, friends and loved ones.