Mijn zoon leerde hoeveel soera's in de koran staan met behulp van de interactieve Salah Mat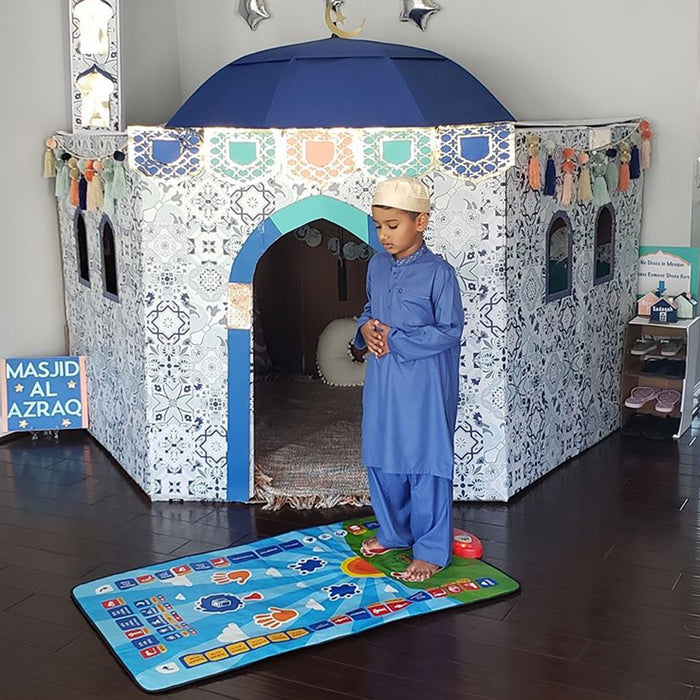 Een moslimblogger -modern.muslim.mama heeft onlangs een bericht op haar Instagram-account geüpload waarin staat dat haar zoon heeft geleerd hoeveel soera's in de koran staan ​​met zijn gloednieuwe MySalahMat.  
 Hier is het verhaal van zuster Sarah - 
"Sinds mijn zoon 3 was, hebben we elk jaar een Ramadan-aftelkalender voor hem opgesteld. Elke dag gedurende de maand opent hij de bijbehorende la en krijgt hij een vraag over de islam. Of hij het antwoord juist krijgt of niet, we bespreken het onderwerp en volg het op met een speurtocht waarbij hij stappen volgt en een kleine verrassing ontvangt, meestal een activiteit, speelgoed of boek.
Dit jaar tegen het einde van de ramadan had ik geen ideeën meer voor vragen die ik aan mijn zoon kon stellen, die onlangs 5 ​​jaar was geworden. Ik vroeg het aan mijn broer en hij kwam met de vraag: "Hoeveel soera's staan ​​er in de koran?". Ik wist dat ik er nog niet aan toe was gekomen om mijn zoon over dit specifieke onderwerp te onderwijzen, maar ik dacht dat het een leervraag zou zijn. Dus zelfs als hij het vandaag niet wist, zouden we het hem leren.
Omdat ik mijn familie had verteld dat hij het antwoord niet zou weten, stonden we allemaal met een bemoedigende glimlach om zich heen terwijl hij de la opende en de vraag hardop voorlas. Tot onze verbazing, zodra hij klaar was met lezen, flapte hij luid "114!!"

Ik was in ongeloof en was ongelooflijk trots, maar toch nieuwsgierig hoe hij het wist. Hij schreeuwde dat hij het had geleerd van zijn My Salah Mat! Hij had de dag ervoor de MSM in zijn moskee-gebedshuis verkend. Ik stond op het randje van tranen! Ik hou ervan als mijn kinderen spelenderwijs leren. sA, het verbaast me hoeveel ze uit hun omgeving opnemen."