Meet Ayeina - two sisters who are sharing their Islamic knowledge to millions of Muslims around the world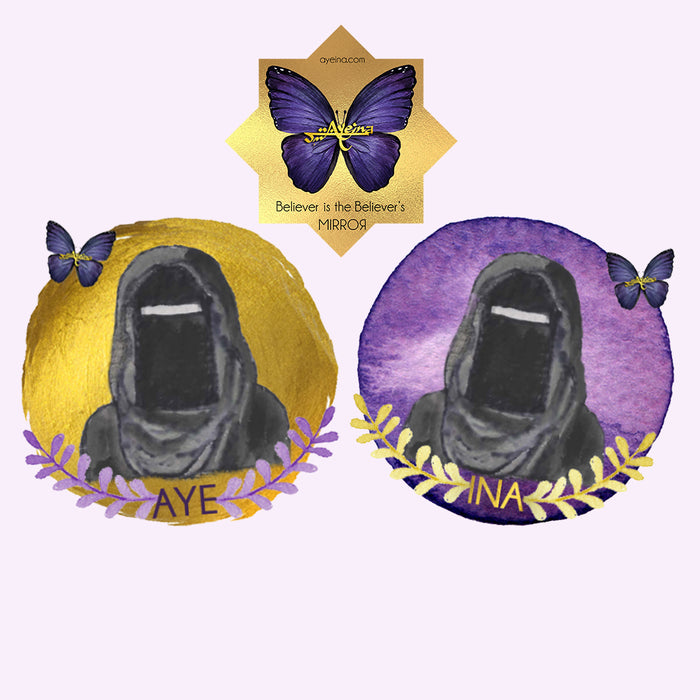 Ayeina is also an Urdu word which means a MIRROR
"Founders of AYEINA – Two Muslim mom bloggers (commonly known as the "twin-ninjas"), countries apart, with hearts as one – Sisters by birth and best friends by choice."
Since their launch in 2015 Ayeina has become one of the biggest Islamic Blog pages on the internet, having a big profile on Instagram, Pinterest and Facebook Alhamdulillah. 
On social media they provide a space which offers knowledge on Quran, hadith, Arabic and Islamic psychology as well as often hosting amazing competitions. As well being an amazing blog they also provide Journals for children - these include; 'In Jannah I want' a imagination journal for kids and '#Alhadmulillah for Series' a gratitude journal.  
      We decided to get in touch with the two sisters and ask more about their special blog...
1. Please introduce yourselves! - Where are you both currently based? Please tell us a little about your hobbies and interests.
السلام عليكم ورحمة الله وبركاته 
I'm Samina - second half of ayeINA. I'm based in Dubai, UAE currently while my sister Ayesha, who runs AYEina with me, is currently in Pakistan.
We are both homeschooling mums (of 5 kids in total) and students of deen too. I'm studying advanced Arabic while Ayesha is studying Islamic psychology.
Nowadays my hobbies and interests all revolve around AYEINA. Be it in the form of art, photography, writing, or researching. 

2. When did your creative-interests journey begin? When did you start collaborating?
AYEINA started back in 2015 and it was the same year when we started collaborating with other brands and bloggers too alhamdulillah. 

3. You have both been to university and have a love for the arts. How do you incorporate these into Ayeina?
My engineering degree is not used in any way really, but Ayesha has done masters in business administration and that surely helps in the technical side of AYEINA. But most of our content is based on the studies we started after our university degrees. Quran, hadith, Arabic and Islamic psychology. 



4. Ayeina is a space for Muslim moms to come to and get support. Do you use your own Experience as being a mum to help?
Yes. Whatever helps us, we share with the hope that it will help others too bi'idhnillah. 

5. Do you struggle to find time/energy as mothers to pursue your studies/hobbies? What struggles do you face?
Yes alhamdulillah one can find time after the "wahnan ala wahn (hardship upon hardship as Allah calls it in the Quran)" stage is over. Pregnancy and breastfeeding stages can be hard though, but Allah does bring ease afterwards and you're able to focus on other aspects of your life too if you can manage utisiling early mornings (time before or after Fajr). 
.
6. What is a piece of advice you wish you could share with all mums out there?
To utilise their time before or after Fajr to stay sane 😆 when you start your mornings peacefully, you set the entire tone of your day! And of course sleep soon after Isha if possible. 
 When you start your mornings peacefully, you set the entire tone of your day!

7. Ayeina has some amazing advice on parenting - what advice do you have for other mums who are teaching their children to pray?
I would really recommend outlining the benefits of Salah in this world and the hereafter. Also, to make it interactive so learning about Salah isn't something that feels forced. I've hung My Salah Mat on the wall for the kids so even when it's not the time to pray, they can still interact with it and learn outside of their Salah time. 
.

8. What are your future plans/ideas for Ayeina?


To help kids fall in love with Islam and be proud of their identity as Muslims. And help parents be their role models too in shaa Allah.
.
.
. 
Thank you so much for taking the time to answer our questions. Its very interesting and inspiring to see the amount of Islamic knowledge you have gathered in your life and how you implement that into your blog/social media...it's amazing Masha'Allah.
Ayeina: