معركة شركة سجادة صلاتي مع شركة تقليد منتجاتها بالصين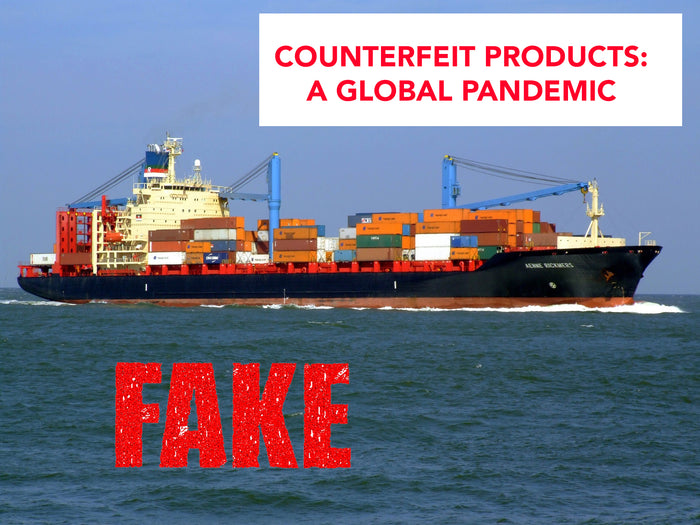 كتب التقرير شركة سجادة صلاتي – 16 أكتوبر 2020
يتم تعريف السلع المقلدة على أنها:
البضائع التي تحمل على غلافها، إشارة مباشرة أو ذات مظهر يُفهم بشكل خاطئ على إنها علامة تجارية مسجلة.
2 - المواد التي تحمل مثل هذه اللافتة التي يقصد استخدامها في تسمية بضائع التعبئة والتغليف كورقة أعمال تتعلق بالسلع أو للإعلان عن سلع
المواد المصممة خصيصا أو المعدلة أو التي تنسخ مثل هذه العلامة
ولقد علمنا بهذه المنتجات في عام 2019، وسرعان ما حصلنا على نسخة مزيفة. وعلى الرغم من محاولة التزوير، إلا أن هناك العديد من الاختلافات الملحوظة، وسنستمر في إضافة لغات وميزات جديدة تجعل المزيف مميزًا عن سجادة الصلاة الأصلية والآمنة. يمكنك حتى الآن معرفة الفرق من خلال الصورة المجسمة الفريدة لدينا، فضلاً عن العدد المتزايد من اللغات المضمنة
[الصورة أعلاه - [كيفية التعرف على سجادة صلاتي الأصلية]
للأسف الشديد، لدينا قضايا قانونية في الإمارات العربية المتحدة وهولندا وإندونيسيا، ونحن مجبرون على إرسال رسائل التوقف والكف لهذه الشركات المقلده. هذه هي الخطوة الأولى في مكافحة التزييف، فقد كان علينا إبلاغ الشركة بانتهاكها وإعطاء فرصة مبكرة لهم للتوقف دون غرامات أو إجراءات قانونية.
في بعض الأحيان لا تعرف الشركات أنها تبيع منتجات مقلدة، وتحدث الأخطاء من وقت لآخر، لذلك تقوم معظم الشركات بإزالة المنتج من القوائم على الفور. على الرغم من أنه سوف يتوجب عليها إتلاف المنتجات المقلدة وقد تخسر الشركة الأموال نتيجة لذلك، فمن الأفضل لها عدم بيع المنتجات المقلدة الخطرة أو التعرض لأضرار قانونية.
بالنسبة لأولئك الذين لا يقومون بالاستجابة ويسيئون التصرف، فقد اضطررنا إلى اتخاذ المزيد من الإجراءات. وتبدأ هذه الإجراءات برسائل أخرى من ممثلينا القانونيين ، وينتهي الأمر بمقاضاة هذه الشركات. وغالبًا ما تكون القضايا واضحة تمامًا لأن لدينا علامات تجارية مسجلة، وعندما نربح هذه القضايا فقد تكون العقوبات: دفع الرسوم القانونية لكلا الجانبين، وتقديم المعلومات المتعلقة بمن اشتروا المنتج؟ كم اشتروا؟ (وأكثر من ذلك بكثير)، وتقديم المنتجات المقلدة إلى فريقنا القانوني من أجل إتلافها، وتعويض شركة سجادة صلاتي عن الأضرار التي لحقت بالعلامة التجارية ؛ والتي يمكن أن تصل إلى عشرات الآلاف من الجنيهات الاسترلينية.
الصورة أعلاه - [ملخص استدعاء المحكمة - تم إرساله إلى شركة تبيع منتجات مقلدة]
كل هذه ليست تجارب نحن نحب أن نمر بها في شركتنا،  ونحن نحرص على منح الشركات فرصة طويلة لتصحيح الأخطاء السابقة. ومع ذلك، فإن البعض لا يستمعون ولديهم نوايا شائنة وهذا هو الوقت الذي يتعين فيه اتخاذ إجراءات قانونية من أجل الحفاظ على قدسية علامتنا التجارية وسلامة عملائنا.
أحد الجوانب الأكثر إثارة للقلق في المنتج المزيف هو أنه على الرغم من أن المنتجات المقلدة والحقيقية تم تصنيعها باستخدام مستشعرات إلكترونية، فإن سجادة صلاتي تستخدم مواد مقاومة للماء ومقاومة للحريق، وتجتاز فحوصات أمان سنوية، لكن المنتجات المزيفة لا تفعل ذلك. المنتج المزيف ليس فقط خرقًا للملكية المحمية بحقوق الطبع والنشر، ولكنه يمثل أيضًا خطرًا على الأطفال لاستخدامه.
يعتبر التورط في السلع المقلدة غير أخلاقي بنفس القدر من منظور إسلامي، لأنه مرتبط بالممارسات التجارية الكاذبة وغير العادلة. شرح الإمام أفضل فيروز، في تغريدة على تويتر، هذا المفهوم بإسهاب. حيث إن إنتاج السلع أو توزيعها يتعارض مع تعاليم الإسلام. شراء المنتجات المقلدة يشجع أيضًا على هذا السلوك غير الأخلاقي.
Impermissibility of selling and buying counterfeit products. Full video here: https://t.co/zJbgodE7FK #fakegoods #honestyinbusiness #businesswithAllah @MySalahMat pic.twitter.com/G75udGvwM3

— Afdal Feroz (@AfdalFeroz) July 22, 2020
لقد حذرنا عملائنا بالفعل من سجادة الصلاة المزيفة في خطاب مفتوح [مضمن أدناه] ولكن المعركة القانونية مع الشركات التي تصنع المنتجات المقلدة أو توزعها مستمرة. نعتزم متابعة كل حالة من حالات التزوير التي نجدها، وممارسة النطاق الكامل للقانون - أينما كان.
وجود مثل هذه المنتجات يعرض اسمنا وسلامة عملائنا للخطر. لذا فنحن نحث كل من العملاء والموزعين على توخي الحذر من المنتجات المقلدة، لأنها خطيرة وغير قانونية وغير أخلاقية.
إذا كنت تعتقد أنك تعرف منتجًا غير أصلي، فيرجى الاتصال بنا وسوف يمكننا حل هذه المشك
إتصل بنا عبر البريد الإلكتروني : info@mysalahmat.com 
إذا كنت تريد معرفة البائع المحلي الرسمي الخاص بك، يرجى النقر هنا 
الموقع الرسمي هو www.mysalahmat.com