How the Welsh Government is supporting My Salah Mat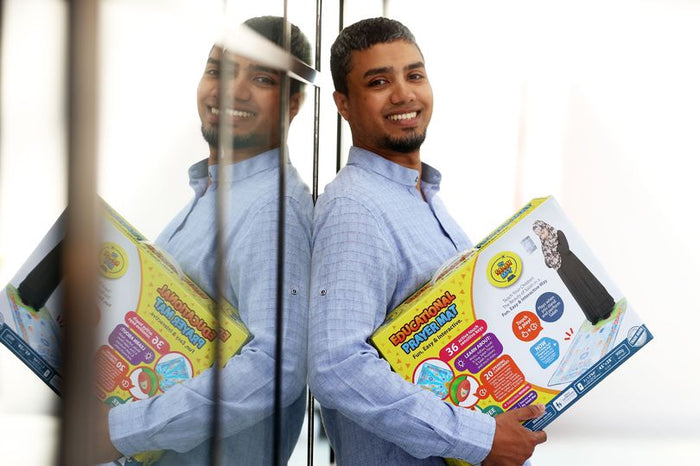 Written by Kamal Ali, Founder of My Salah Mat
Worlds First Interactive Prayer Mat, designed in Wales and patent granted! Alhamdulillah.

When I present My Salah Mat to companies around the world, people are fascinated to find out where I come from. Actually, they just want to know where the worlds first interactive prayer mat was invented.

Surprisingly, it was not invented in Indonesia, the country with the world's largest Muslim population nor in modern day Saudi Arabia, the birthplace of the prophet Muhammad (SAWS). This innovative product was actually invented in the city of Newport, Wales! I am so proud to live, work and bring up my children in Newport, Wales!

I am a proud Welsh man, my roots are colourful to say the least. I certainly fly the flag of Wales wherever I travel. I was born in Bangladesh but came to the U.K. as a baby. I am also a proud Muslim.

As you can imagine, seeing the Welsh Government sharing my invention is an extremely proud moment for me. I am really grateful that the Llywodraeth Cymru / Welsh Government has believed in my vision and is supporting me. Their support has opened opportunities I couldn't have imagined.
Wales has a charm that means people don't want to leave when they come. That is the story of our marketing manager
Alexander Fell
who came from England to Wales for university and has never left!
I have been really fortunate to have had the opportunity to travel around the world. My career as a teacher has taken me to Birmingham and Cairo. My business travels for My Salah Mat has taken me to many places in the Middle-East and Europe and countries like China, Hong Kong and Malaysia.
Ultimately, my heart belongs in Wales and there is no place like the green, green grass of home. Thank you to the Welsh Government for all your support!