Five of the Best Places to Buy Eid Decorations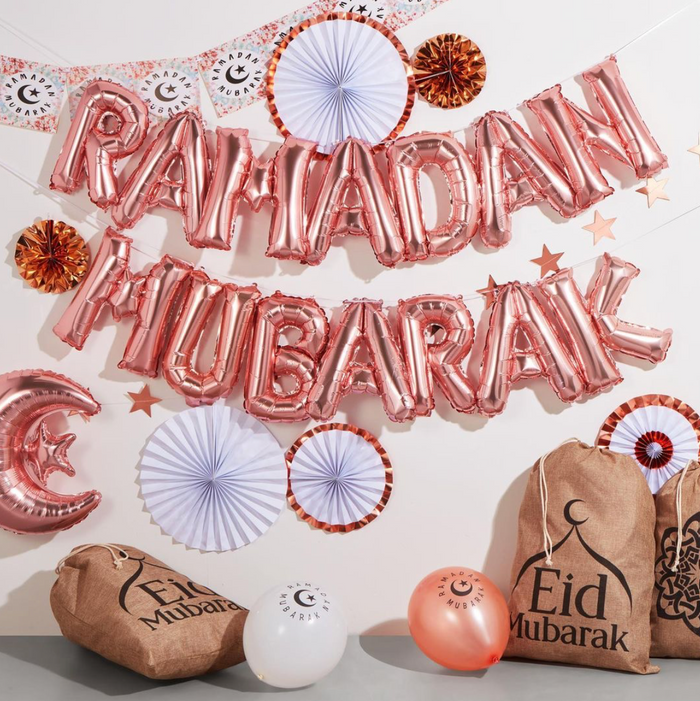 Eid decorations have become a staple part of Eid celebrations. In Muslim countries, streets are often decorated and special lights are put up in celebration of Eid. In countries such as the UK, it is becoming increasingly popular for individual Muslims to put up Eid decorations as part of the fun, and to make the occasion more exciting for children. Therefore, My Salat Mat has put together a list of six companies that have a great range of Eid decorations and associated products:
Anafiya Gifts
Naomi Macklin-Carr, the founder of Anafiya Gifts, is passionate about products for Muslim children and she featured on BBC One's Sunday Morning Live in 2019. The good thing about the www.anafiya.com website is that it has a dropdown category for Ramadan and Eid, and the following list of categories appears:   
All Ramadan and Eid
All Decorations
Balloons
Banners and Bunting
Ramadan and Eid Cards
Tableware and Baking
Hanging Decorations and Lights
Gift Bags and Favour Boxes
Journals
In addition, the themes for all the items are shown, such as Black and Gold, and Marrakesh, which makes it easier to match the items to your colour scheme. One of the items that is really useful and unique is the Eid sacks for giving gifts; these come in a range of colours, and we particularly like them because they can be used year after year, which is good for the environment. The colour schemes are great, and the purple and gold tableware, banners, giftware, and even a money envelope, are particularly beautiful. This is a must visit site for those of you who like to be organised and colour coordinated.
Eid Party
One of the largest selections of goods for Eid and Ramadan, www.eidparty.co.uk  was set up by a Muslim family in 2017, when it was quite difficult to purchase such products. Their aim is to make Eid and Ramdan special for everyone, especially children. Eid Party has a huge selection of products, and particiularly useful are their decoration sets, which contain matching items such as bunting, balloons and lanterns. Eid Party have a wide selection of gift boxes of all sizes in fantastic colors, and foil balloons that can be inflated with air (no need for helium). They even have Eid chair covers! 
Tajoora
The main aim of www.tajoora.co.uk is to provide books and educational materials on Islam and the Arabic language, and they also have some really nice decorations for Eid and Ramadan, such as they tableware in classic geometric designs and calligraphy styles. They also have a variety of easy to put up signs, and we really like the one for Ramadan that says "Count the blessings not the minutes - Happy Ramadan." In addition, their range of decorative lanterns will give a really authentic feel to the home during Ramadan or Eid.    
Khadijah Islamic Store
Sister Khadijah set up www.khadijahislamicstore.co.uk during her quest to find Islamic products that would engage her children. The site has a range of products, including for Ramadan and Eid. An item that stood out to us are the Ramadan advent-style calendars, which are great for little hands and to create excitement during Ramadan, as well as providing a reward for good behaviour! Khadijah Islamic Store also has a range of gift bags with illustrations of mosques in different colours, which are great for gifting packs of dates and sweets to gain extra reward for feeding a fasting person during Ramadan.
Hanan Made
We think it's important to support smaller local businesses, and Hanan Made provides a range of unique decorative items, which can be found on Instagram at https://www.instagram.com/hanan_made/
Hanan Made has a unique range of Eid bunting, drawings and window decorations, and will make bespoke commissions. Her original paintings illustrating the phases of the moon are both decorative and suitable for teaching children about the Islamic lunar calendar.  
These are just a selection of websites out there that provide decorations for Ramadan and Eid. Don't forget to check out eBay and Etsy as well. But most importantly, enjoy and make the most out this special time. My Salat Mat wishes everyone a blessed Ramadan, and Eid Mubarak to all.