Pregled | My Salah Mat - interaktivna sedžada za namaz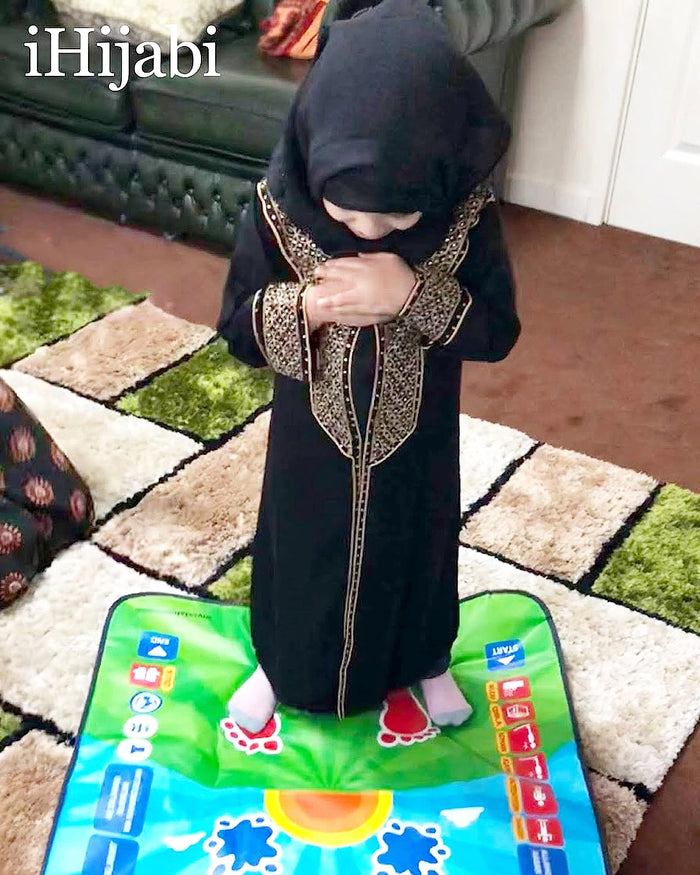 Od kada imam kćer iznenađena sam koliko toga djeca pokupe gledajući i prateći nas. Moja kćerka ima samo 12 mjeseci, ali srce mi se istopilo onaj dan kad je sjela na moju sedžadu i spustila se na sedždu nakon što je gledala mog muža i mene kako klanjamo.
Namaz je sastavni dio naše religije i prva je stvar o kojoj ćemo biti pitani. To je ono oko čega se naš dan vrti i jedna je od stvari koja nas približava Allahu. To je razlog zašto mnogi roditelji potiču svoju djecu na namaz još od malih nogu. Prirodno je da djeca oponašaju svoje roditelje u namazu, pa zašto ne potaknuti tu radoznalost i želju podučavajući ih i upućujući ih da klanjaju ovom patentiranom interaktivnom sedžadom za namaz.
Pratim My Salah Mat na instagramu i bila sam zaintrigirana sedžadom za namaz, pa sam iskoristila priliku da napravim osvrt za vas.
Sedžada za namaz izrađena je od vodootpornog i otpornog na vatru materijala koji se lahko savija. Svijetlih je i živopisnih boja, što je djeci zabavno i privlačno.
Reproducira se na 11 različitih jezika: engleski, francuski, arapski, turski, malezijski, indonezijski, urdu, ruski, bangla, njemački, španski, holandski, švedski, norveški, bosanski. Jednostavno dodirnite sliku globusa kako biste promijenili jezik. Smatram da je to nevjerovatna odlika za jedan nov proizvod jer većina interaktivnih dječijih igračaka dolazi samo na jednom jeziku.
Postoji 36 tipki osjetljivih na dodir koje djecu uče o svim aspektima namaza, od abdesta i nijeta do kraćih sura i šta izgovoriti u svakom dijelu namaza.
Podlošci za dodir s vanjske strane predstavljaju korake za 2 rekata namaza, svaka tipka će  objasniti koji je to dio, čuti ćete riječi koje se izgovaraju na arapskom jeziku i prijevod na engleski jezik (ili koji god jezik izaberete). To je sjajno jer većina odraslih ne zna značenje onoga što izgovaraju u namazu, prijevod na engleski jezik znači da razumijete šta govorite, što vam pomaže da mislite ono što govorite, omogućavajući vam jaču povezanost sa Allahom u namazu.
Kako koristiti sedžadu
Kada prvi put budete koristili sedžadu, preporučila bih vam da sjednete sa djetetom i pritisnete svaku tipku oko krajeva sedžade kako biste prošli kroz dijelove namaza i dobili priliku da razgovarate s njima i pomognete im razumjeti svaki korak prije nego što započnete namaz.
Sedžada ima jarko obojene slike da djetetu možete pokazati gdje treba da stavi stopala na početku, te koljena, ruke, nos i čelo kroz namaz.
Kada stanete na jastučiće za stopala, počet će namaz. Postoje vizualni podsjetnici na svaki korak oko ivice sedžade, sa ilustracijama koje ukazuju na sljedeću poziciju. Na početku (i ovisno o dobi vašeg djeteta) bilo bi korisno pratiti odraslu osobu.
Kad dijelom tijela dodirnete odgovarajuću senzorsku podlogu za određeni korak, sedžada će se automatski prebaciti na sljedeći korak.
Na kraju možete pritisnuti tipku za dovu i sedžada će recitirati kratku dovu, uz prijevod na engleski.
Tipka za dove uključuje i uobičajene svakodnevne dove poput dova za spavanje, buđenje, ulazak u džamiju, itd.
Glasnoću možete jednostavno pojačati pritiskom na tipku zvučnika prema gore ili dolje, prema potrebama.
Vaše dijete doslovno treba stati na namaz i sedžada će ga/nju voditi kroz namaz baš kao što ih i odrasla osoba vodi i uči naglas.
Starosni raspon
Interaktivna sedžada za namaz namienjena je deci od 3 i više godina
Kao što znamo djeca počinju da vas oponašaju u namazu čim se počnu kretati; u dobi od 3 godine dijete je u stanju razumjeti jednostavne riječi, izraze i započeti s učenjem dova i sura. Smatram da su neke od karakteristika prekomplicirane za dijete u dobi od 3 godine jer možda ne razumije sve riječi, izraze i objašnjenja. Za djecu od 3-5 godina, sedžada je korisna da im pokaže gdje da postave svoje dijelove tijela, ali trebat će im više nadzora i vodstva odraslih.
U dobi od 6-7 godina i više pogodna je za započinjanje razgovora i objašnjenja svakog koraka, ovo je najbolje doba za korištenje značajki oko ivice sedžade.
Pakovanje
'My Salah Mat' dolazi u svijetloj, živopisnoj kutiji s likovima iz crtanih filmova i jasnim napisima, izgleda kao dječja igračka i mogu zamisliti kako će se djeca obradovati ​​kad dobiju sedžada na poklon jer je vrlo vizualno privlačna.
Besplatna interaktivna knjižica
Pored svih odlika kutija sadrži i besplatnu interaktivnu knjižicu. Visokokvalitetna je i uključuje igre  rješavanja problema vezane za namaz i stranicu za bojanje. Sadrži uobičajene dove, ilustracije i vodič o tome kako uzimati abdest i klanjati namaz. Sve je prevedeno sa arapskog na engleski i odličan je kao referenca za sve što je vezano za namaz.
Posljednja stranica u knjizi pokazuje i kako koristiti sedžadu tokom klanjanja namaza sa slikama i dijagramom.
Cijena
Maloprodajna cijena od 44,99 funte možda se nekima čini da je cijena malo visoka, međutim, po mom mišljenju to je vrlo povoljna cijena jer je prostirka investicija. Kvalitetna je i dugotrajna, pa se može prenijeti s jednog djeteta na drugo nakon što dijete savlada klanjanje samostalno. Upamtite da je ovo ulaganje u Ahiret vašeg djeteta. Kad tako razmislite, nije visoka cijena za platiti i nevjerojatan je poklon koji i uvijek daje.
Probni period
Kako je moja kćer premala da bih koristila ovu sedžadu, otišla sam ju isprobati s trogodišnjom kćerkom svojih prijatelja. Čim je ugledala šarenu kutiju bila je toliko uzbuđena i doslovno je skakala gore-dolje od radosti, nije mogla čekati da vidi šta je unutra i početi je koristiti.
Kad smo otvorili sedžadu i objasnili joj šta je, željela ju je odmah početi koristiti. Kao što sam i mislila, u početku su joj mnoge značajke bile malo previše komplicirane za shvatiti, ali je uživala stavljati ruke i noge na odgovarajuće pozicije. Kako bude rasla, moći će učiti i o ostalim funkcijama.
Čim je stala na sedžadu, uz našu pomoć, počela je slijediti korake, primjetila sam da se najbolje koristi na čvrstoj površini, a dijelovi tijela moraju biti tačno na tipki osjetljivoj na dodir da bi prepoznala da ste se pomaknuli na sljedeći korak. Ponekad nije prepoznala sljedeći korak, ali nakon malo prilagođavanja, sensor je prepoznao pokret. To se moglo dogoditi zbog toga što smo sedžadu otvorili i preklopili dosta puta, preporučuje se ne previjati previše jer može prekinuti strujni krug, najbolje ju je ostaviti  ako je moguće ili je složiti na isti način kao što je bila složena u kutiji.
Da li bih preporučila ovaj proizvod?
Definitivno bih preporučila ovaj proizvod svim roditeljima koji svoju djecu žele naučiti klanjati namaz na zabavan i uzbudljiv način, a ne kao obavezu ili iz straha.
U stvari, moj suprug i ja smo bili toliko impresionirani sedžadom da ćemo je kupiti za Safu za Bajram ako Bog da i da joj se zahvalimo što je bila dio ove recenzije. Imamo još desetak drugih ljudi kojima bismo ovo mogli kupiti kao poklon.
Završne riječi
U svijetu u kojem tehnologija preuzima domove, djecu više zanimaju igračke koje su interaktivne, iPad uređaji i telefoni koji reagiraju na djetetov dodir ili pokret, ova interaktivna edukativna sedžada za namaz osjećala bi se kao kod kuće. Djeca će se zabavljati igrajući se sa sedžadom i naučit će klanjati namaz jer je zabavno. Osjećam da će usaditi ljubav prema namazu kod djece od malih nogu.