Recensie | Mijn Salah Kleed- Interactief Gebedskleed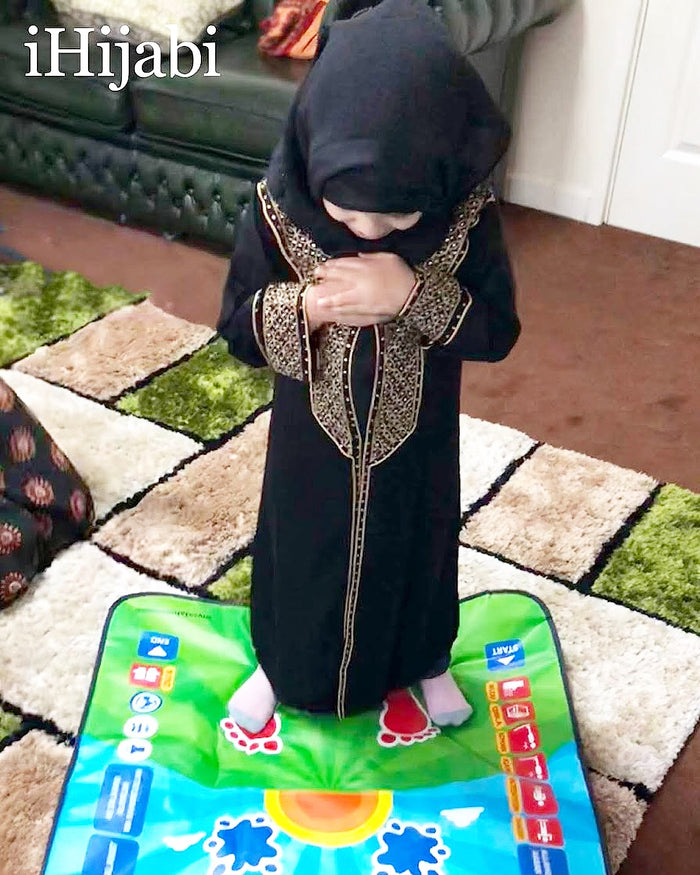 Sinds ik mijn dochter heb, sta ik versteld van hoeveel kinderen kunnen leren van naar je kijken en je volgen. Mijn dochter is pas 12 maanden maar mijn hart smolt de dag dat ze op mijn gebedskleed zat in in sudjud ging nadat ze mijn man en ik zag bidden.
 Het gebed is zo een integraal onderdeel van onze religie en het is het eerste waarop wij ondervraagd worden. Het is waar onze dag om draait en het is een van de dingen die ons dichter bij Allah brengt. Dit is de reden waardoor veel ouders hun kinderen aanmoedigen vanaf een jonge leeftijd. Het is natuurlijk voor kinderen om hun ouders in het gebed na te doen, dus waarom zou je die nieuwsgierigheid en gretigheid niet aanmoedigen door hen te leren en te begeleiden hoe ze moeten bidden met dit interactieve gebedskleed, patent in afwachting.
 Ik volg Mijn Salah Kleed op instagram en ik was onder de indruk van het gebedskleed dus ik sprong bij de kans om het voor jullie te beoordelen. 
Het gebedskleed is gemaakt van waterdicht en vuurbestendig materiaal dat makkelijk opvouwbaar is. Hij is fel en kleurrijk, waardoor hij er leuk en aantrekkelijk uit ziet voor kinderen. Hij speelt af in 7 verschillende talen: Engels, Frans, Arabisch, Turks, Maleisisch, Indonesisch en Urdu. Raak simpelweg het aardbol-plaatje aan om de taal te veranderen. Ik vond dit een fantastische functionaliteit voor een nieuw product, aangezien het meeste interactieve speelgoed maar in 1 taal komt.
Er zijn 36 aanrakingsgevoelige toetsen die kinderen leren over alle aspecten van het gebed, van Woedoe en bedoeling tot de kortere surah's en wat te zeggen bij elke stap van salah.  
De touchpads rond de buitenkant zijn de stappen voor 2 rakat van salah, elke aanrakingsgevoelige toets legt uit wat elke stap is, reciteert de gezegdes in het Arabisch en vertaalt het naar het Engels (of welke taal je dan ook gebruikt). Dit is heerlijk omdat de meeste volwassenen de betekenis niet weten van wat ze in het gebed zeggen. Vertalen naar het Engels betekent dat je begrijpt wat je zegt, wat je helpt met menen wat je zegt, en dat geeft je een sterkere band met Allah in je gebed. 
Hoe gebruik je het gebedskleed
Wanneer je het kleed voor de eerste keer gebruikt, raad ik aan dat je met je kind(eren) erbij gaat zitten en elk knopje rondom het kleed indrukt, zodat je door alle stappen van salah gaat en een kans krijgt om met hen te praten om ze te helpen met het begrijpen van elke stap voordat je met het gebed begint.  
Het kleed heeft fel gekleurde plaatjes die je kind laten zien waar ze hun voeten aan het begin moeten plaatsen, net als hun knieën, handen, neus en voorhoofd door het gebed heen.
 Wanneer je met je voeten op de voeten-toets staat, begint het gebed. Er zijn visuele geheugensteuntjes over elke stap rondom de rand van het kleed, met illustraties voor welke houding volgt. Aan het begin (afhankelijk van de leeftijd van uw kind) zou het ook heel behulpzaam zijn om een volwassene te volgen.  
Wanneer je lichaamsdeel het desbetreffende sensor-matje aanraakt voor de stap, gaat het kleed automatisch door naar de volgende stap  
Aan het einde kan je de dua toets indrukken, dan reciteert het kleed een korte dua aan het eind van je salah, samen met de Engelse vertaling. De dua toets heeft ook veel voorkomende dagelijkse dua's zoals de dua voor slapen, wakker worden, een masjid betreden etc.  
Je kunt gemakkelijk het volume omhoog of omlaag zetten om aan uw behoefte te voldoen door op het toetsenbord van de luidspreker te drukken.  
Uw kind moet letterlijk staan voor het gebed en het kleed begeleidt hen door het gebed net als een volwassenen hen begeleidt en hardop reciteert.
Leeftijdsbereik
Het interactieve gebedskleed is bedoeld voor de leeftijd van 3+
Aangezien we weten dat kinderen je beginnen te imiteren in het gebed zodra ze kunnen bewegen, kan een kind op driejarige leeftijd simple woorden en zinnen begrijpen en dus beginnen met het leren van dua's en surah's. ik heb het gevoel dat sommige functionaliteiten te ingewikkeld zijn voor een driejarige aangezien ze mogelijk niet alle woorden, zinnen en toelichtingen zullen verstaan. Voor kinderen van 3-5 is het kleed naar mijn mening nuttig in het laten zien waar ze hun lichaamsdelen moeten plaatsen, maar ze zullen meer volwassen toezicht en begeleiding nodig hebben..
Leeftijd van 6-7 en ouder is een geschikte leeftijd om elke stap uit te leggen. Dit is de beste leeftijd voor het gebruik van de functionaliteiten rondom de rand van het kleed.
 Verpakking
Het 'Mijn Salah Kleed' wordt geleverd in een felle, kleurrijke doos met cartoon karakters en duidelijk schrift. Het lijkt op kinderspeelgoed en ik kan me indenken dat kinderen opgewonden worden als ze het kleed cadeau krijgen omdat het er erg aantrekkelijk uit ziet. 
Gratis Activiteitenboekje
Boven alle functionaliteiten bevat de doos een gratis activiteitenboekje. Het boek is van hoge kwaliteit en bevat onder andere salah-gerelateerde probleemoplossingsspelletjes en een kleurplaat. Het bevat ook veel voorkomende dua's, illustraties en een gids voor hoe je woedoe en salah uitvoert. Het vertaalt al het Arabisch naar het Engels en is super goed als referentie voor alles wat salah-gerelateerd is
De laatste pagina in het boek laat ook zien hoe het salah kleed gebruikt word met foto's en een flow-chart.
Prijs
Met een prijs van £44.99 denken sommige mensen dat het een beetje duur is, maar naar mijn mening is het een heel redelijke prijs omdat het kleed een investering is. Hij gaat lang mee dus hij kan worden doorgegeven van het ene kind naar het andere zodra je kind zelfstandig heeft leren bidden. Onthoud dat het een investering is in de Akhirah van uw kind. Als u er zo naar kijkt is het geen hoge prijs om te betalen en is het een fantastisch cadeau waar je van blijft profiteren.
Oefenrondje 
Aangezien mijn dochter te klein is om dit kleed te gebruiken, ging it het uitproberen met de driejarige 'Safa' van een vriend van mij. Zodra zij de kleurrijke doos zag was ze zo opgewonden en sprong ze letterlijk op en neer van geluk, ze kon niet wachten om te zien wat erin zat en om het te gebruiken 
Toen we het kleed open maakten en ik haar uitlegde wat het was, wilde ze het onmiddelijk gebruiken. Ik dacht eerst dat veel van de functies te ingewikkeld zouden zijn voor haar om te begrijpen, maar ze hield ervan om haar handen en voeten in de juiste houdingen te zetten. Naarmate ze opgroeit kunnen de andere functies aan haar geïntroduceerd worden. 
Zodra ze op het kleed stond, volgde ze de stappen met onze begeleiding. Ik kwam erachter dat het het best op een vast oppervlak geplaatst moet worden en dat de lichaamsdelen nauwkeurig op de aanrakingsgevoelige toetsen geplaatst moeten worden, zodat het kleed doorheeft dat je naar de volgende stap bent gegaan, wat soms niet lukte maar na een beetje aanpassing voor elkaar kwam. Dit kwam misschien doordat we het kleed veel geopend en opgevouwd hadden. Het is aanbevolen dat je dit niet te vaak doet omdat dit de schakeling kan breken. Je kunt hem het beste zoveel mogelijk plat bewaren op opvouwen op de manier waarop hij in de doos gevouwd zat. 
Zou ik dit product aanraden?
Ik zou dit product zeker weten aanraden aan alle ouders die hun kinderen willen leren bidden op een leuke, opwindende manier in plaats van een taak of uit angst. 
 Mijn man en ik waren in feite zo onder de indruk met het kleed dat we er eentje voor Safa zullen kopen voor Eid insha'Allah en als bedankje voor het deel uit maken van deze recensie. We kunnen tientallen andere mensen bedenken om dit ook als cadeau voor te kopen.
Laatste woorden
In een wereld waar technologie de huizen overneemt, waar kinderen meer geïnteresserd zijn in interactief speelgoed, in iPad's en telefoons die reageren op de aanraking of beweging van het kind, is dit interactieve leerzame gebedskleed uitermate gepast. Kinderen zullen genieten van het spelen met het kleed en zullen zonder het door te hebben de salah leren bidden omdat het leuk is. Ik heb het gevoel dat het de liefde van salah aan kinderen  geeft oop een jonge leeftijd.