Recension | My Salah Mat- Interaktiv Bönematta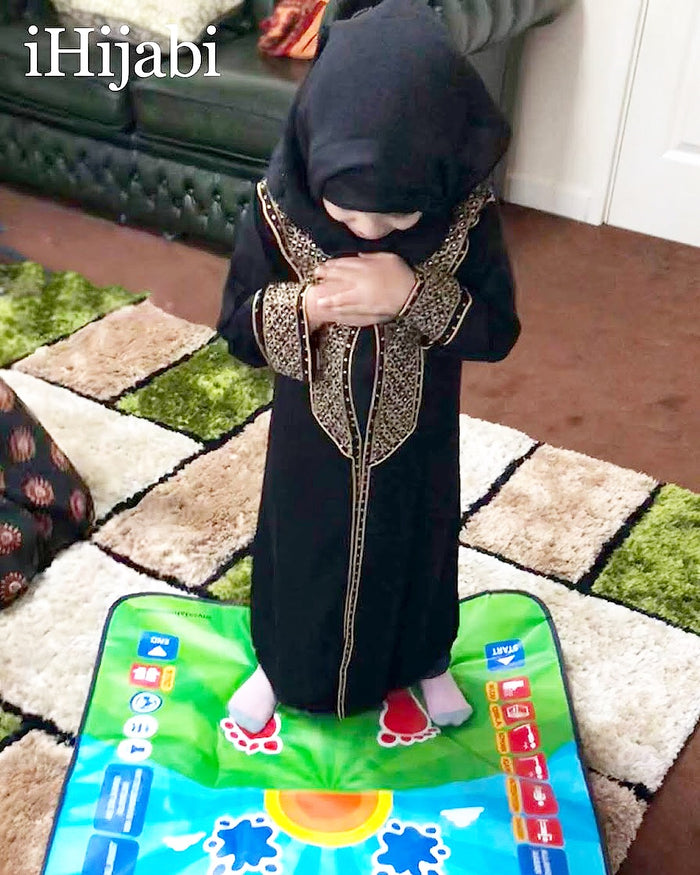 Sedan jag fick min dotter förbluffas jag över hur mycket barn lär sig genom att iaktta och härma en. Min dotter är bara 12 månader men mitt hjärta smälte den dagen hon satte sig på min bönematta och intog sujood efter att ha tittat på min man och mig när vi bad.
Bön är en så väsentlig del av vår religion och är den första sak vi blir tillfrågade om. Det är vad våra dagar kretsar runt och är en av de saker som för oss närmare Allah. Detta är anledningen till varför många föräldrar uppmmuntrar sina barn till att be från en tidig ålder. Det är naturligt för barn att imitera sina föräldrar i bön så varför inte uppmuntra denna nyfikenhet och ivrighet genom att lära dem och vägleda dem till bön med denna patentansökta, interaktiva bönematta.
 Jag har följt My Salah Mat på Instagram och fascinerades av bönemattan, så jag hoppade gladeligen på möjligheten att recensera den för er.
 Bönemattan är gjord av ett vattentätt och eldsäkert material, som enkelt viks ihop och läggs undan. Den är klar och färgglad, vilket gör att den ser rolig och tilltalande ut för barn.
Den spelar upp 11 olika språk engelska, franska, arabiska, turkiska, malajiska, indonesiska, urdu, ryska, bengali, tyska, spanska, holländska, svenska, norska och bosniska. Bara rör vid bilden av jordgloben för att byta språk. Jag tyckte att detta var en otrolig funktion för en ny produkt, eftersom de flesta interaktiva barnleksaker endast finns med ett språk.
Det finns 36 beröringskänsliga knappar som lär barn om alla aspekter kring bön, från Wudhu och Intention till de kortare surorna och vad som ska sägas under varje steg av salah
Knapparna runt utsidan är stegen för 2 rakat salah, varje beröringskänslig knapp kommer förklara vad varje steg är, recitera vad som sägs på arabiska, och översätta det till engelska (eller det språk som du använder den på). Detta är jättebra eftersom de flesta vuxna inte vet betydelsen av det som sägs under bönen, att översätta det till engelska betyder att du förstår vad du säger vilket hjälper dig att mena vad du säger, och ger dig då ett starkare band till Allah i din bön.
Hur mattan används
När du använder mattan för första gången skulle jag rekommendera att du sitter med ditt (dina) barn och trycker på varje knapp runt mattans utkant, så du går igenom stegen i salah och får en möjlighet att prata med dem och hjälpa dem förstå varje steg, innan du börjar bönen.
Mattan har starka, färgglada bilder för att visa ditt barn var de ska placera sina fötter vid inledandet av bönen och sedan sina knän, händer, näsa och panna genom bönen.
När du står med dina fötter på fotknapparna kommer bönen starta. Det finns visuella påminnelser om varje steg runt ytterkanten av mattan, med illustrationer om vilken position som kommer härnäst. I början (och beroende på ditt barns ålder) är det till stor hjälp att få följa en vuxen också.
När den del av kroppen rör vid sin motsvarande beröringssensor för steget, kommer mattan automatiskt gå vidare till nästa steg.
Vid slutet kan du trycka på dua knappen och mattan kommer recitera en kort dua i slutet av din bön, tillsammans med den engelska översättningen.
Dua knappen inkluderar även vanliga vardagliga dua som exempelvis dua för att sova, vakna, gå in i en moské etc.
Du kan lätt höja eller sänka volymen för att anpassa till dina behov genom att trycka på högtalarknappen.
Ditt barn måsta bokstavligen stå upp för bön och mattan kommer vägleda dem genom bönen precis som om en vuxen skulle vägleda dem och recitera högt.
Ålderrsspann
Den interaktiva bönemattan är riktad till barn som är 3+
Vi vet att barn börjar imitera dig i bön så snart de kan förflytta sig, men vid 3 års ålder klarar ett barn förstå enkla ord, fraser och börjar lära sig dua och suror. Jag känner att vissa av funktionerna är för komplexa för en treåring eftersom de kanske inte förstår alla ord, fraser och förklaringar. För barn mellan 3 till 5 år är mattan i min mening användbar för att visa dem var de ska placera sina kroppsdelar men de kommer behöva mer övervakning och vägledning av en vuxen.
Vid 6-7 års ålder och över är det en passande ålder för att börja prata om och förklara varje steg, detta är den bästa åldern för att använda funktionerna vid ytterkanten av mattan
Förpackning
My Salah Mat levereras i en klar och färgglad förpackning med tecknade figurer och tydlig skrift, den ser ut som en barnleksak och jag kan föreställa mig att barn kommer bli exalterade när de tar emot mattan som en gåva eftersom den är väldigt tilltalande visuellt.
Gratis aktivitetsbok
Utöver alla funktioner inkluderar förpackningen också en gratis aktivitetsbok. Boken är av hög kvalitet och innefattar problemlösningsspel och en färgläggningssida, relaterat till bön. Den inkluderar vaniga dua, illustrationer och guider i hur man utför wudhu och salah. Den översätter all arabiska till engelska och är suverän som referens för allt salah relaterat.
Den sista sidan i boken visar också hur man använder mattan i bilder och genom ett flödesdiagram.
Pris
Försäljningspriset på £44.99 kan vissa uppleva som lite högt, men, i min mening är det ett väldigt skäligt pris eftersom mattan är en investering. Den är slitstark och hållbar och kan därför föras vidare från ett barn till nästa när barnet har lärt sig behärska bönen på egen hand. Kom ihåg att detta är en investering I ditt barns Akhirah. När du tänker på det på det sättet är det inte ett högt pris att betala och skulle bli en fantastisk gåva som fortsätter att ge. 
Provperiod
Eftersom min dotter är för liten för att använda denna matta så provade jag den med min väns treåring "Safa". Så snart hon såg den färgglada kartongen blev hon ivrig och hoppade bokstavligen upp och ner av glädje, hon kundee knappt bärga sig för att se vad som fanns i och börja använda den.
När vi öppnade upp mattan och förklarade för henne vad det var ville hon börja använda den på en gång, som jag hade trott inledningsvis var flera av funktionerna lite för svåra för henne att förstå men hon älskade att placera sina händer och fötter I de nödvändiga positionerna, när hon sen blir äldre, kan de andra funktionerna introduceras för henne
Så snart hon ställde sig på mattan, så började hon, med vår vägledning, att följa stegen. Jag märkte att den används bäst på en fast yta och kroppens delar måste placeras korrekt på de beröringskänsliga knapparna för att den ska känna att du gått vidare med nästa steg, ibland kände den inte av nästa förflyttning men efter lite finjusteringar kände den av rörelserna. Detta kan ha varit för att vi hade öppnat och vikt mattan ett antal gånger, det
rekommenderas att du inte viker mattan för mycket eftersom det kan bryta strömkretsen, det bästa är att lämna den utbredd så mycket som möjligt eller vika den på samma sätt som den var vikt I förpackningen.
Skulle jag rekommendera den här produkten?
Jag skulle definitivt rekommendera denna produkt till alla föräldrar som vill lära sina barn att be på ett roligt och spännande sätt, snarare än som en syssla eller av rädsla.
Faktiskt var min man och jag så imponerade av mattan att vi kommer köpa en åt Safa till Eid inshaAllah och för att säga tack för att du var en del av denna recension. Vi kan också komma på ett dussin andra personer att köpa denna till som present.
 Slutord
I en värld där teknik tar över våra hem, är barn mer intresserade av leksaker som är interaktiva, av iPads och telefoner som reagerar på barnets beröring eller rörelser, där kommer denna interaktiva pedagogiska bönematta passa väl in. Barn kommer att ha roligt då de leker med bönemattan och utan att inse det själva kommer de lära sig att be salah för att det är roligt. Jag känner att den kommer ingjuta kärleken för salah I våra barn redan från en ung ålder.