Anmeldelse | My Salah Mat- Interaktiv Bedemåtte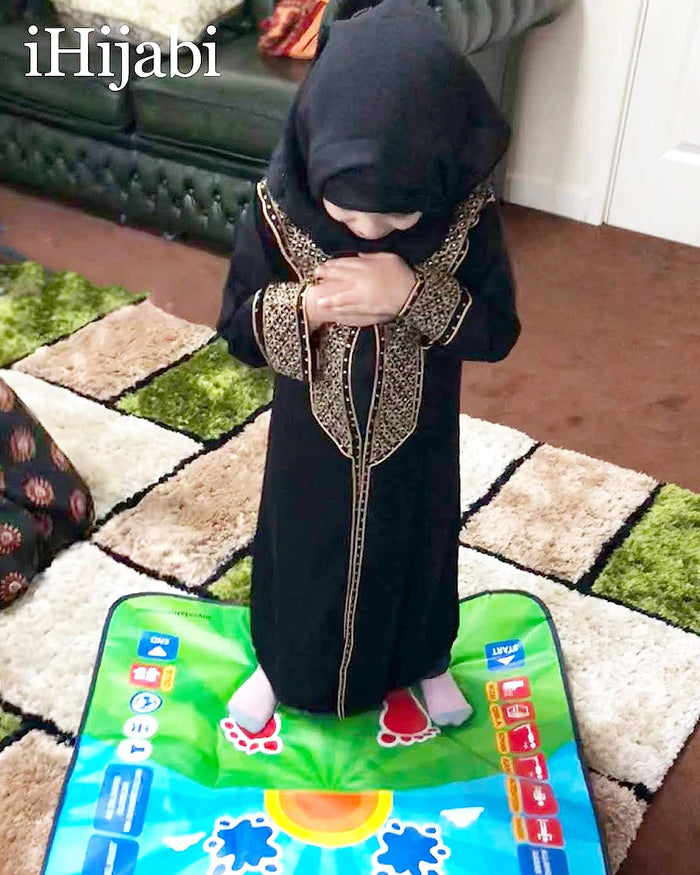 Siden jeg har fået min datter, er jeg overrasket over, hvor meget børn lærer af at se og følge dig. Min datter er kun 12 måneder, men mit hjerte smeltede den dag hun sad på min bedemåtte og gik i sujood efter at have set min mand og jeg bede.
Bøn er en så integreret del af vores religion og er det første, vi bliver udspurgt om. Det er det, som vores dag drejer sig om, og det er en af de ting, der bringer os tættere på Allah. Det er grunden til, at mange forældre opfordrer deres børn til at bede fra en ung alder. Det er naturligt for børn at efterligne deres forældre i bøn, så hvorfor ikke opmuntre denne nysgerrighed og iver ved at lære dem og guide dem til at bede med denne patentanmeldte, interaktive bedemåtte.
Jeg har fulgt My Salah Mat på instagram og var fascineret af bedemåtten, så jeg hoppede på muligheden for at gennemgå den for jer.
Bedemåtten er lavet af et vandtæt og brandsikkert materiale, som nemt kan foldes sammen. Den er lys og farverig, hvilket gør den sjov og tiltalende for børn.
Den spiller på 20 forskellige sprog engelsk, fransk, arabisk, tyrkisk, malaysisk, indonesisk, urdu, russisk, bangla, tysk, spansk, hollandsk, svensk, norsk, norsk, bosnisk, italiensk, portugisisk, albansk, somali, dansk. Du skal blot røre ved globusbilledet for at skifte sprog. Jeg synes, at dette er en utrolig funktion for et nyt produkt, da de fleste interaktive legetøjsprodukter til børn kun findes på ét sprog.
Der er 36 berøringsfølsomme taster, som lærer børnene om alle aspekter af bønnen, lige fra Wudhu og hensigt til de kortere suraer og hvad man skal sige i hvert trin af salah.
De berøringsfølsomme taster rundt om ydersiden er trinene for 2 rakat af salah, og hver berøringsfølsom tast forklarer, hvad hvert trin er, reciterer ordsprog på arabisk og oversætter det til engelsk (eller det sprog, du bruger det på). Dette er fantastisk, fordi de fleste voksne ikke kender betydningen af det, de siger i bøn, oversat til engelsk betyder, at du forstår, hvad du siger, hvilket hjælper dig med at mene, hvad du siger, hvilket giver dig en stærkere forbindelse med Allah i din bøn.
Sådan bruger du måtten
Når du bruger måtten første gang, vil jeg anbefale, at du sidder sammen med dit barn og trykker på hver enkelt tast rundt om kanten af måtten, så du gennemgår alle trinene i salah og får mulighed for at tale med dem og hjælpe dem med at forstå hvert trin, før du begynder bønnen. Måtten har farvestrålende billeder, der viser dit barn, hvor fødderne skal placeres i starten, og hvor knæene, hænderne, næsen og panden skal placeres under bønnen.
Når du står med fødderne på fodnøglen, starter bønnen. Der er visuelle påmindelser om hvert trin rundt om kanten af måtten med illustrationer om, hvilken stilling der kommer derefter. I begyndelsen (og afhængigt af dit barns alder) vil det være nyttigt også at følge en voksen.
Når din kropsdel berører den tilsvarende sensoriske pude for det pågældende trin, går måtten automatisk videre til næste trin.
Til sidst kan du trykke på du'a-tasterpladen, hvorefter måtten vil recitere en kort du'a ved afslutningen af din salah sammen med den engelske oversættelse.
Du'a-tasten indeholder også almindelige hverdags du'as som du'a'en for at sove, vågne, gå ind i en masjid osv.
Du kan nemt skrue op eller ned for lydstyrken, så den passer til dine behov, ved at trykke på højttalertastaturet.
Dit barn skal bogstaveligt talt stå til bøn, og måtten vil guide det undervejs i bønnen, ligesom en voksen guider det og reciterer højt.
Aldersgruppe
Den interaktive bedemåtte er beregnet til børn på 3+ år
Da vi ved, at børn begynder at efterligne dig i bønnen, så snart de kan bevæge sig, er et barn på 3 år i stand til at forstå enkle ord og sætninger og begynde at lære du'as og sura'er. Jeg føler, at nogle af funktionerne er for komplekse for et barn på 3 år, da de måske ikke forstår alle ord, sætninger og forklaringer. For børn i alderen 3-5 år er måtten efter min mening nyttig til at vise dem, hvor de skal placere deres kropsdele, men de vil have brug for mere voksenovervågning og vejledning.
Fra 6-7 år og opefter er en passende alder til at begynde at tale med og forklare hvert trin, og det er den bedste alder til at bruge funktionerne rundt om kanten af måtten.
Emballage
My Salah Mat" leveres i en lys, farverig æske med tegneseriefigurer og tydelig skrift, der ligner et børnelegetøj, og jeg kan forestille mig, at børn vil blive begejstrede over at modtage måtten som gave, fordi den er meget visuelt tiltalende.
Gratis aktivitetsbog
Ud over alle funktionerne indeholder æsken en gratis aktivitetsbog. Bogen er af høj kvalitet og indeholder salah-relaterede problemløsningslege og en farvelægningsside. Den indeholder almindelige du'as, illustrationer og en vejledning i, hvordan man udfører wudhu og salah. Den oversætter alt det arabiske til engelsk og er fantastisk som reference til alt Salah-relateret.
Den sidste side i bogen viser også, hvordan man bruger salah-måtten med billeder og et flowdiagram.
Pris
Med en pris på 44,99 £ kan nogle mennesker måske føle, at prisen er lidt høj, men efter min mening er det en meget rimelig pris, fordi måtten er en investering. Den er holdbar og langtidsholdbar, så den kan gives videre fra et barn til det næste, når dit barn har mestret at bede på egen hånd. Husk, at dette er en investering i dit barns Akhirah. Når du tænker på det på den måde, er det ikke en høj pris at betale, og det ville være en fantastisk gave, der bliver ved med at give.
Prøvekørsel
Da min datter er for lille til at bruge denne måtte, prøvede jeg den på min venindes 3 årige Safa. Så snart hun så den farverige æske, blev hun så begejstret og hoppede bogstaveligt talt op og ned af glæde, hun kunne ikke vente med at se, hvad der var indeni og begynde at bruge den.
Da vi åbnede måtten og forklarede hende, hvad det var, ville hun begynde at bruge den med det samme, ligesom jeg i starten havde troet, at mange af funktionerne var lidt for komplicerede til, at hun kunne forstå dem, men hun elskede at placere sine hænder og fødder i de nødvendige positioner, og efterhånden som hun bliver ældre, kan de andre funktioner introduceres for hende.
Vil jeg anbefale dette produkt?
Jeg vil helt klart anbefale dette produkt til alle forældre, der ønsker at lære deres børn at bede på en sjov og spændende måde i stedet for som en pligt eller af frygt.
Faktisk var min mand og jeg så imponerede over måtten, at vi vil købe en til Safa til Eid inshaAllah og for at sige tak for at være en del af denne anmeldelse. Vi kan også komme i tanke om et dusin andre mennesker, som vi vil købe den som gave til.
Sidste ord
I en verden, hvor teknologien er ved at indtage hjemmene, er børn mere interesserede i legetøj, der er interaktivt, i iPad'er og telefoner, der reagerer på barnets berøring eller bevægelse, vil denne interaktive, pædagogiske bedemåtte føle sig hjemme. Børnene vil have det sjovt med at lege med måtten, og uden at de opdager det, vil de lære at bede salah, fordi det er sjovt. Jeg føler, at den vil indgyde børn kærlighed til salah fra en ung alder.
Så snart hun stod på måtten, begyndte hun med vores vejledning at følge trinene, jeg fandt ud af, at det er bedst at bruge den på et fast underlag, og kropsdelene skal være nøjagtigt på den berøringsfølsomme tast, for at den kan genkende, at du er gået videre til næste trin, nogle gange opfangede den ikke den næste bevægelse, men efter en lille justering opfangede den bevægelsen. Dette kan skyldes, at vi havde åbnet og foldet måtten en del gange, det anbefales, at du ikke folder måtten for meget, da det kan bryde kredsløbet, det er bedst at lade den ligge fladt så meget som muligt eller folde den på samme måde, som den var foldet i kassen.